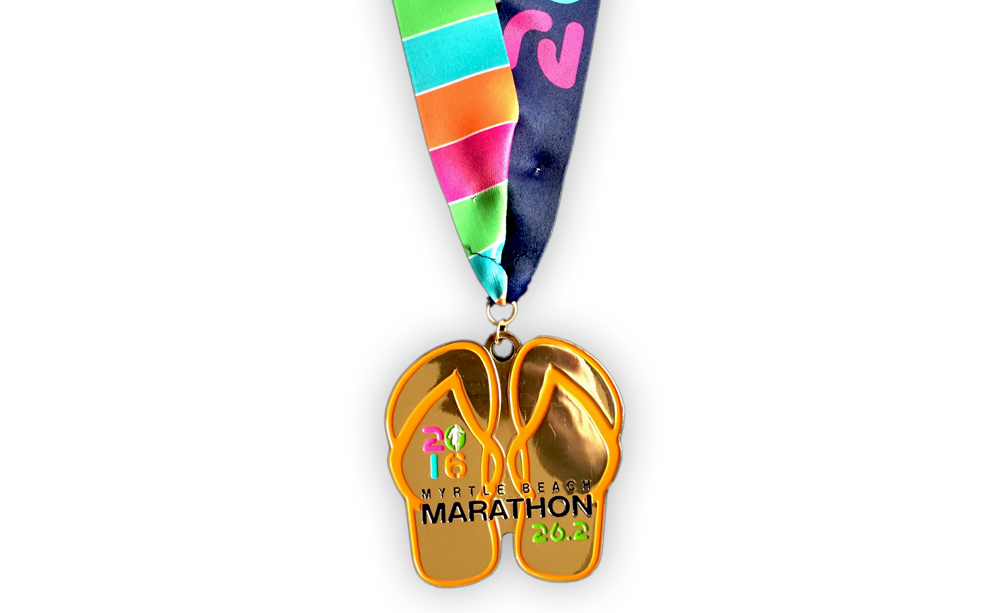 DATE: Saturday, March 5, 2016 6:30am Race Start
LOCATION: Start / Finish: Myrtle Beach, SC: Course Map
WEATHER: 46 degrees, Party Cloudy / 7 mph E wind / 81% humidity
---
What a year it has been! Almost 11 months since my last marathon up in Boston and I still feel like I'm trying to warm up. There was no fall marathon, I took the time off from running to marry the love of my life. Our wedding was on September 19th, 2016 and it was a beautiful day! Soon after we returned from our honeymoon we laced up and started thinking about the spring. Our good friends Gary and Alyssa had their sights on Myrtle Beach Marathon, a flat and fast race early in the season. With little hesitation I jumped on board and began building some base for a training plan that would kick off in mid November.
Training
I had great success with the Nike Lead From the Front Training Program when I ran Sugarloaf a couple of years back. However, I felt like the intensity might be a little too much for this training cycle so I stepped it back one notch and settled on the Nike Set a New PR Training Program. The mileage was pretty similar but the intensity was a little toned down.
We had an odd winter in New York. It wasn't terrible but it wasn't great. We went from 3 degrees to 60 degrees like it was nothing. A few unfortunate weather days fell on some pretty crucial workouts and I wound up doing the majority of my training on the treadmill. An 18 miler, a 20 miler, tempo workouts, mile repeats.. Way too much on the treadmill. I knew that this would effect the quality of my fitness.
Race Day
It was an early start to the day: a 4:30am wakeup so we could be ready to toe the line by 6:30am. The sun was barely up when the race started but the weather was perfect. Low 40s and sunny. A half mile into the race and I felt so comfortable. The wheels were turning and I was feeling good!
I ran the first half exactly how I had planned: Perfectly consistent with a couple of small surges. The plan was to run the first half easy and pick it up for the second half. Near Mile 7 I tucked into a pack to negate some headwinds coming off of the ocean. Around mile 12 we started to pick it up to a 6:40 pace. A little too soon for me, I decided to hang back and be patient. Once I was alone, the head winds started to beat me up a little. Throw in a gradual uphill and all of that treadmill training started to rear its ugly head. I felt myself starting to fade at the half. I made a conscience decision to slow it down for the second half so I wouldn't hit a big wall and completely crash. I slowed it down to a 7:30 pace and enjoyed the second half of the race. I never hit that wall, I never wanted to give-up, I just coasted through the miles on a beautiful day.
I finished with a very lackluster 3:11:37. I was hoping to break 3:10 but it really made no difference what-so-ever. This was still my third fastest marathon and it felt like I hardly put forth any effort. I had a great day out on the roads and enjoyed some great early spring weather. I will call this one a success!

Splits (via Garmin GPS):
Miles 1 – 13: 6:59, 7:00, 7:00, 6:52, 6:56, 6:53, 6:59, 6:57, 6:57, 6:58, 6:56, 7:01, 6:59 (1:30:27)
Miles 14 – 26: 7:16, 7:13, 7:21, 7:32, 7:42, 7:20, 7:45, 7:27, 7:35, 8:04, 8:03, 7:44, 8:14 (1:39:16)
Official Splits
Distance
Split
Pace
10K:
42:33
6:52
Half:
1:31:02
6:57
30K:
2:09:01
7:05
Finish:
3:11:37
7:18
The Finish
I came through the finish line with a smile on my face and gas in the tank. It was fairly quiet in the finishers chute. I was able to hang around for a few minutes to chat with a couple of runners and drink some chocolate milk before finally making my way over to the hotel shuttle. It was a little chilly after finishing and there were no mylar blankets being handed out so I didn't want to hang around for too long and catch a chill. After getting back to the hotel and a taking a quick shower, Kristen and I refueled with some lunch and spent the afternoon down by the beach with some beers. A nice way to spend the afternoon relaxing after an early race!