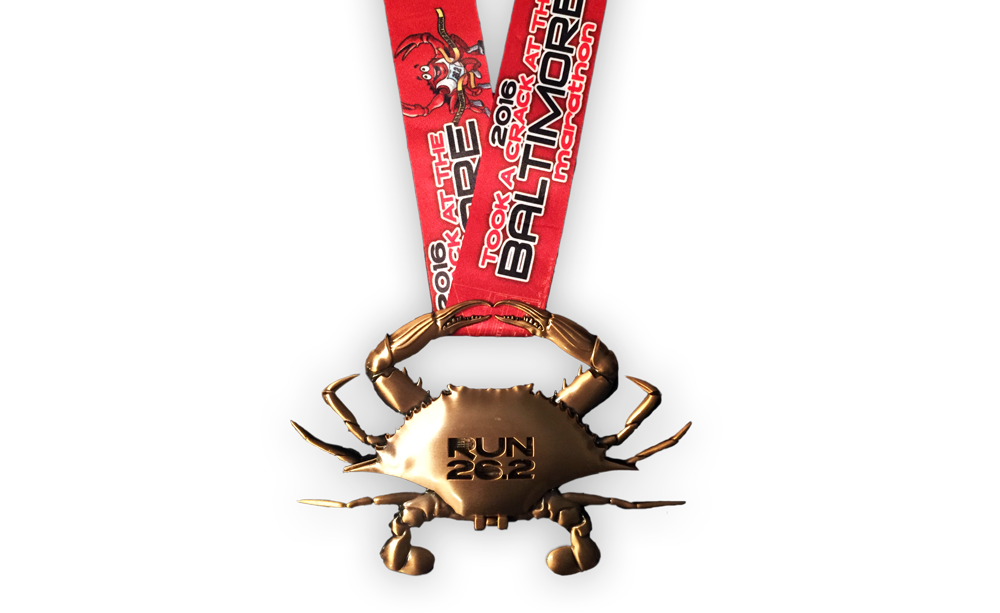 DATE: Saturday, October 15, 2016 8:00am Race Start
LOCATION: Start / Finish: Baltimore, MD: Course Map
WEATHER: 50 degrees, Sunny / 2 mph N wind / 77% humidity
---
I considered this my Anti-Marathon Marathon. I registered 8 weeks out and my weekly mileage was about 20 miles per week with a 10 mile long run. It was the end of summer, it was hot, I had very little motivation and I was spending a lot of time on the bike (as I prefer to do in the summer). I had to drag myself, kicking and screaming, into 90 degree long runs. Everyone who knows me knows that I hate fall marathons. 1) Long runs in the heat are terrible and 2) As it gets darker and cooler in the mornings it's harder and harder to get out of bed. This marathon just fed my distaste for fall races.
Training
Talk about pulling a training plan out of your ass. This was about as improvised as it gets. I increased my weekday mileage to 15-20 miles and added long runs to the weekends, in a build up sequence: 14, 16, 18, 14, 20, 12, 10. I also kept long bike rides for the first few weekends, starting around 65 miles and tapering down to 25 miles. By the time I had my 20 mile long run I was done on the bike.
All of my training runs we're around 7:45 average pace, whether I was running 4 miles or 20 miles. I decided to set a conservative goal of 8:00 pace which would be about a 3:30 marathon. This has proven time and time again to be my marathon sweet spot. At the expo I signed up to go out with the 3:25 pace group so I'd have some company along the way.
Race Day
It was a beautiful morning and it felt great to wake up at 6:00am with plenty of time to get ready. The walk from the hotel – Days Inn Inner Harbor – was about a quarter mile from the start. I left at 7:15AM and had plenty of time to spare; I even got to watch the 5K go off. I found my pace group, lined up, and put on my shades.
The race start with an immediate up hill that lasted about 3 miles, on and off. It was a nice way to stay in check and use up that pre race adrenaline. Once it leveled out the miles were beautiful. I didn't have to think and the pace was easy. The downhill to flat mid section of the race really put me on cruise control.
Around mile 16 the hills came back with a vengeance; what seemed like large rollers that never ended. I started to lose steam around mile 20 and began walking through water stops. The hills kept coming and the sun was getting high in the sky with no shade. I split up from my friends in the pace group and eased it in, walking through water stops and trying to maintain pace in between. I finished at 3:28:35, a minute and a half shy of my goal and 3 and a half minutes off of my pace group. I know it seems like a pretty uneventful story, and it was. The course had some good sights. We got to run through the zoo, along the harbor and through some pretty bad looking neighborhoods. We ended with a run down Eutaw St. and finished the last quarter mile through Camden Yards, a beautiful finish.
One of the most interesting things was the half marathon. I'm so used to the full marathon and half marathon starting together. It's always jam packed at the start and by mile 14 you're in no man's land. The Baltimore Running Festival starts their half marathon at 9:45AM and it begins at mile 13 of the full marathon. At mile 16 the races merge. This is a brilliant idea! The second part of the race had so much energy! Kristen was running the half marathon with a predicted finish time of 1:45. If the timing worked out we knew we'd be finishing together.. and we almost did! I finished apx. 2 minutes ahead of her but we met up right past the finish line in the chute! It was great to grab our medals, water and food together while sharing our fresh race experiences.

Splits (via Garmin GPS):
Miles 1 – 13: 7:42, 7:50, 7:54, 7:40, 7:36, 7:49, 7:48, 7:45, 7:33, 7:48, 7:53, 7:43, 7:42 (1:40:43)
Miles 14 – 26: 7:53, 7:52, 7:50, 7:49, 7:41, 7:52, 7:48, 8:06, 8:05, 8:47, 8:13, 9:47, 8:10 (1:45:53)
Official Splits
Distance
Split
Pace
5.7 Mile:
46:51
8:14
12.5 Mile:
1:37:23
7:48
Half:
1:42:15
7:49
19 Mile:
2:27:37
7:47
24 Mile:
3:08:30
7:52
Finish:
3:28:35
7:58
The Finish
I was happy that I was done and I didn't feel too terrible. I just didn't feel like running anymore! The sun was high in the sky and it was warm out; perfect weather for hanging around at the finisher village for a bit. We took our time and eventually walked back to the hotel, a beautiful stroll while watching other runners finish their journeys. Post race celebration took place at Pratt Street Ale House with good beers and good food! (I highly recommend the Creator/Destroyer Ale – Coffee Nut Brown Ale Full bodied brown ale (caramel/dark fruit/burnt sugar characteristics), infused with CeremonyCoffee Roasters' "Destroyer" espresso roast beans , ground and cold steeped for 16 hours prior to the brew process.)
I have no idea what comes next. Time to regroup, find some focus and think about spring 2017.