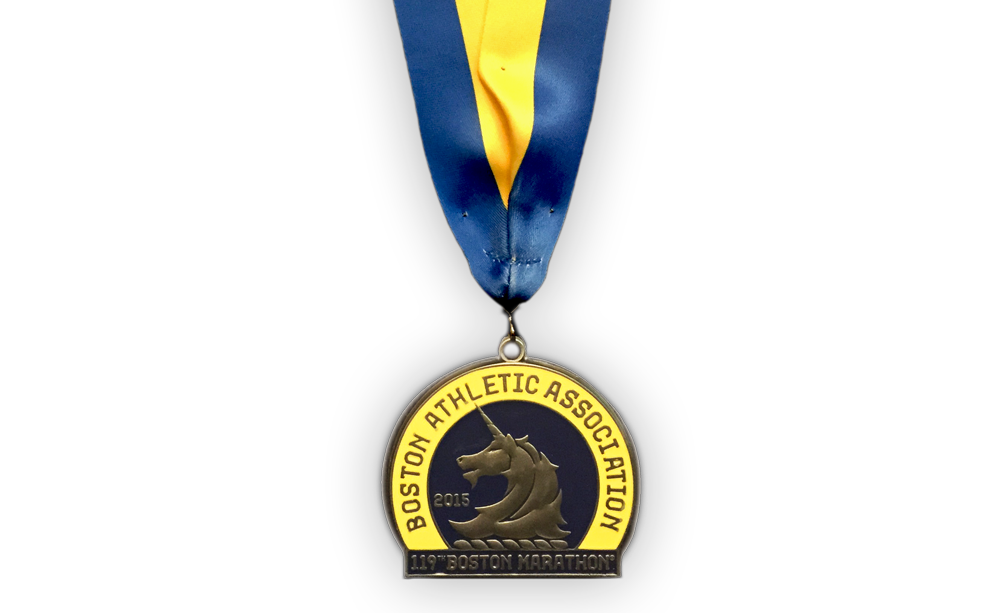 DATE: Monday, April 20, 2015 10:00am Race Start
LOCATION: Start: Hopkinton, MA / Finish: Boston, MA: Course Map
WEATHER: 44 degrees, Rain / 19 mph E wind / 84% humidity
---
There's only one Boston. Ever since I crossed the finish line of my first marathon in NYC, my goal was to run Boston. The jacket, the medal, the energy, the BQ. To be a part of the oldest and most prestiges marathon in the world. Anyone who has tried distance running at one time or another considers the Boston Marathon as the mecca of the 26.2 milers.
History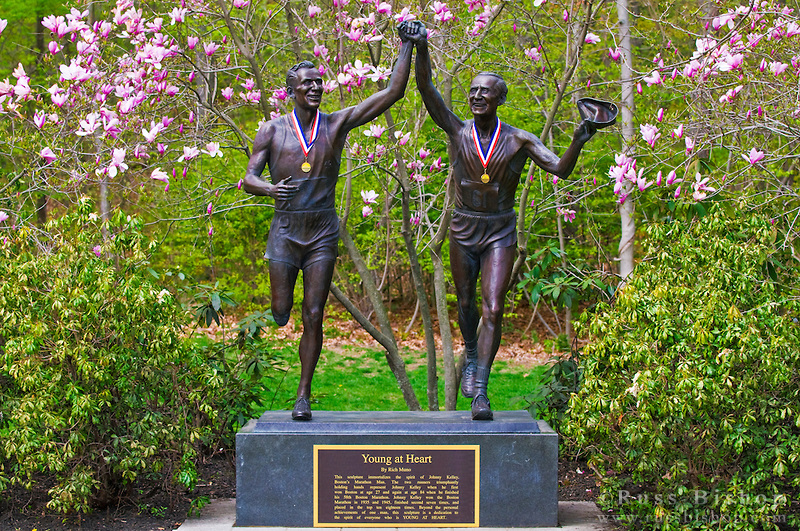 The Boston Marathon is an annual marathon hosted by several cities in Greater Boston in eastern Massachusetts, United States. It is always held on Patriots' Day, the third Monday of April. Begun in 1897, inspired by the success of the first modern-day marathon competition in the 1896 Summer Olympics, the Boston Marathon is the world's oldest annual marathon and ranks as one of the world's best-known road racing events.
Clarence DeMar, Johnny Kelley, Bill Rodgers, and Kathrine Switzer are some of the names ringing out in the streets of Boston. A lot has changed for the Boston Marathon since its first run in the spring of 1897, but the goal remains the same: get to Boston as quickly as possible. I was ready to follow in the footsteps of those runners before me to conquer the Newton hills and make that right on Hereford and left on Boylston.
There are some great books about the history of the race and the people involved. I read quite a few leading up to the race and these are the ones I recommend:
Boston: A Century of Running by Hal Higdon
4:09:43: Boston 2013 Through the Eyes of the Runners by Hal Higdon
The B.A.A. at 125: The Official History of the Boston Athletic Association, 1887-2012 by John Hanc
Boston Marathon History by the Mile by Paul Clerici
Duel in the Sun by John Brant
14 Minutes by Alberto Salazar
Training
Hal Higdon's Boston Bound Training Program is designed specifically for those runners talented or dedicated enough to have qualified for the Boston Marathon. It assumes an already high level of fitness, otherwise you would not have been able to meet Boston's strict qualifying standards. A 12 week program light on speed work, this was very different from what I was used to. As always, I put my trust in the training. The only modification I made was swapping the weekend runs, which meant I would do long runs on Saturday and paced runs (usually) on Sunday. I like to do paced runs on tired legs to help simulate the last 10K of a marathon.
I disagree with Hal's definition of tempo run and decided not to follow it. He defines a tempo run as one where you start easy at a jogging warm-up pace (60 to 70 percent of your maximum heart rate), then after a mile or two, begin to gradually accelerate to just slower than your 10-K pace (between 80 and 90 percent of your maximum heart rate). Then, after holding that fast pace for 3 to 5 minutes, gradually decelerate and finish the run at the same jogging pace at which you started. I choose to run my tempos in a more traditional fashion, where a 6 mile tempo would be a 1 mile warmup, 4 miles continuous tempo pace, and a 1 mile cool down.
Because winter weather conditions can impact your ability to run certain distances, every other Sunday the long run prescription is in minutes rather than miles. For the time-based runs, I kept them as a 3/1 run, where the first 3/4 of the run is done at an easy pace, picking up the pace in the last 1/4 of the distance. I also tried to keep this true for distance based long runs, usually ending the last 1/4 of the distance at marathon pace.
The hill workouts were prescribed in X up and Y down. Because Boston is a downhill course, run every third repeat is downhill to strengthen your legs for the pounding they will get in the marathon. In a workout of 4 x hill, 2 down I would do the following:
Up HARD, jog down easy (recovery)
Up HARD, jog around top of hill easy (recovery)
Down HARD, jog around bottom of hill easy (recovery)
Up HARD, jog down easy (recovery)
Up HARD, jog around top of hill easy (recovery)
Down HARD, jog around bottom of hill easy (recovery)
I kept strength workouts strictly on Monday and Wednesday mornings after my easy runs. I would alternate between two strength-training workouts integrating free weights, machines and body-weight work. The workouts below are comprehensive in design and promote injury prevention, improving body composition and enhancing race performance.
Modified Hal Hidgon Boston Bound Training Plan
| | | | | | | | |
| --- | --- | --- | --- | --- | --- | --- | --- |
| 1 | 3m easy | 3 x hill, 1 down | 3m easy | 5m tempo | Rest | 1:20, 3/1 | 6m pace |
| 2 | 4m easy | 4 x 800, 400 jog | 4m easy | 7m tempo | Rest | 14m easy | 7m pace |
| 3 | 4m easy | 4 x hill, 1 down | 4m easy | 7m easy | Rest | 1:30, 3/1 | 7m easy |
| 4 | 4m easy | 5 x 800, 400 jog | 4m easy | 5m easy | Rest | 16m easy | 7m pace |
| 5 | 4m easy | 5 x hill, 2 down | 4m easy | 8m tempo | Rest | 1:40, 3/1 | 5-K Race |
| 6 | 5m easy | 6 x 800, 400 jog | 5m easy | 8m easy | Rest | 18m easy | 8m pace |
| 7 | 5m easy | 6 x hill, 2 down | 5m easy | 5m tempo | Rest | 1:50, 3/1 | 10-K Race |
| 8 | 5m easy | 7 x 800, 400 jog | 5m easy | 8m easy | Rest | 20m easy | 5m easy |
| 9 | 5m easy | 7 x hill, 3 down | 5m easy | 5m easy | 2:00, 3/1 | Rest | Half Marathon |
| 10 | 5m easy | 8 x 800, 400 jog | 5m easy | 8m easy | Rest | 20m easy | 5m pace |
| 11 | 5m easy | 8 x hill, 3 down | 5m easy | 6m tempo | Rest | 12m easy | 4m pace |
| 12 | 5m easy | 4 x 800, 400 jog | 3m easy | 4m easy | Rest | 2m easy | Rest |
| 13 | Marathon | | | | | | |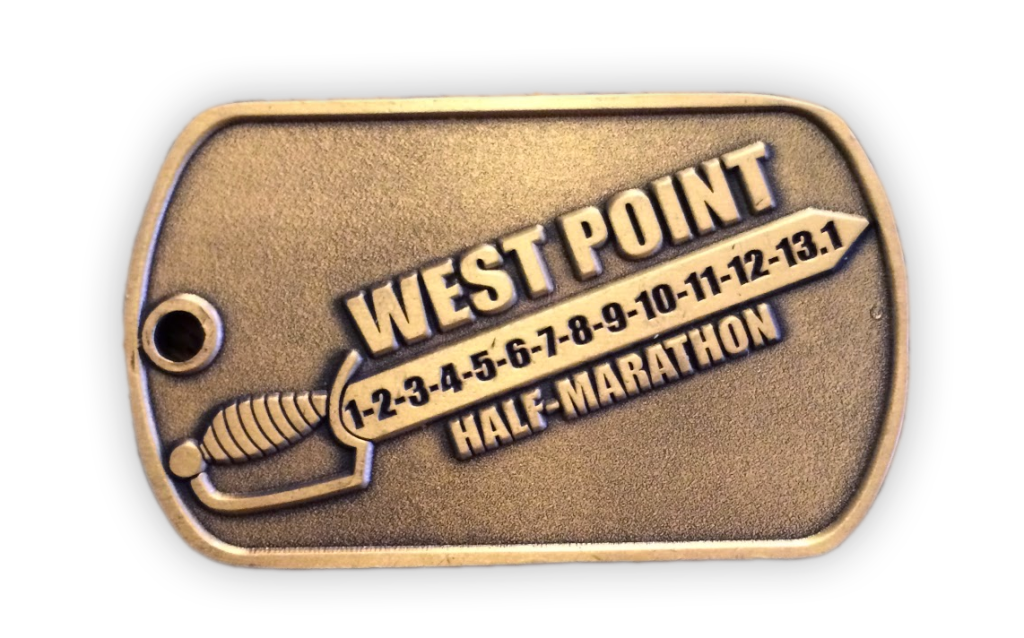 The Half
All of my predictors were compromised by the bad weather. I didn't really know what kind of shape I was in and I definitely didn't have any confidence. The first shot I had to see was at the West Point Half Marathon on March 29th. I felt like a caged animal: nervous, anxious, and ready to go. It was a bright day, but cool, with temperatures in the low 20s and a fresh coating of light snow.
The race went out fast and I was ready for it. I came through the first mile in 5:12, with some nice downhills to compliment my adrenaline. We settled into pace and I was running in a nice chase pack right off the leaders. The first four miles were downhill / flat and everyone felt good. Near mile 5 we hit the first of the West Point hills. I felt great. I maintained my effort and pulled away from the pack, never looking back. As we came through the hills – and hills, and more hills – I stayed strong and maintained. I had plenty of time in the bank and I kept picking runners off. By mile 10 I was hanging on for dear life and the hills really started to beat me up. I was still able to catch up to the lead pack – minus the leader who pulled away – and we worked off of each other to finish strong.
Five of us crossed the line together. I took the 10th place spot with a strong 1:20:43, which was enough for a nice PR, an age group award, and the confidence I was looking for. I felt terrible after the race and came down with a head cold and a nice blister that would bother me for the next couple of weeks. Still, I stayed strong through some tough hills and I felt my training paying off!
Boston
The weeks after West Point Half Marathon seemed to move very quickly. The blister on my foot refused to callous and heal, my anxiety soared, and the weather still wasn't getting any warmer. The training plan called for a late 20 miler, 2 weeks out from race day. A small group of us went out to Harriman to knock this run out on the challenging, but rewarding, Seven Lakes Drive route. Of course, the weather wouldn't fully cooperate. The sun was out and temps were a bit more seasonable, but we had 40-50mph wind gusts with us the whole way. No matter, we easily threw down a 7:00 pace covering the hills, the wind, and every step of that 20 miler. Ready to taper.
Kristen and I got up to Boston on Saturday and it was perfect. Sunny, temps in the 60s, runners everywhere. We stayed at the Courtyard Marriott Downtown Boston at 275 Tremont St. The location was great, about 1 mile from the finish line / expo and .25 mile from the BAA buses at Boston Common. The expo was huge and pretty over crowded, along with most of the area around the finish line. But walking around in the crowds had such electrifying energy. Everyone was so excited to be there and everyone was a part of this together!
At the expo I was able to meet and spend some time with Wesley Korir, Bill Rodgers, and Bart Yasso. All such great guys. I had Bill sign a photo from his 1975 Boston victory and he instantly started reminiscing about the race. The painters gloves, the weather, the sneakers from Pre; I've heard the stories before, but never coming out of Bill's mouth. What a great chat we had!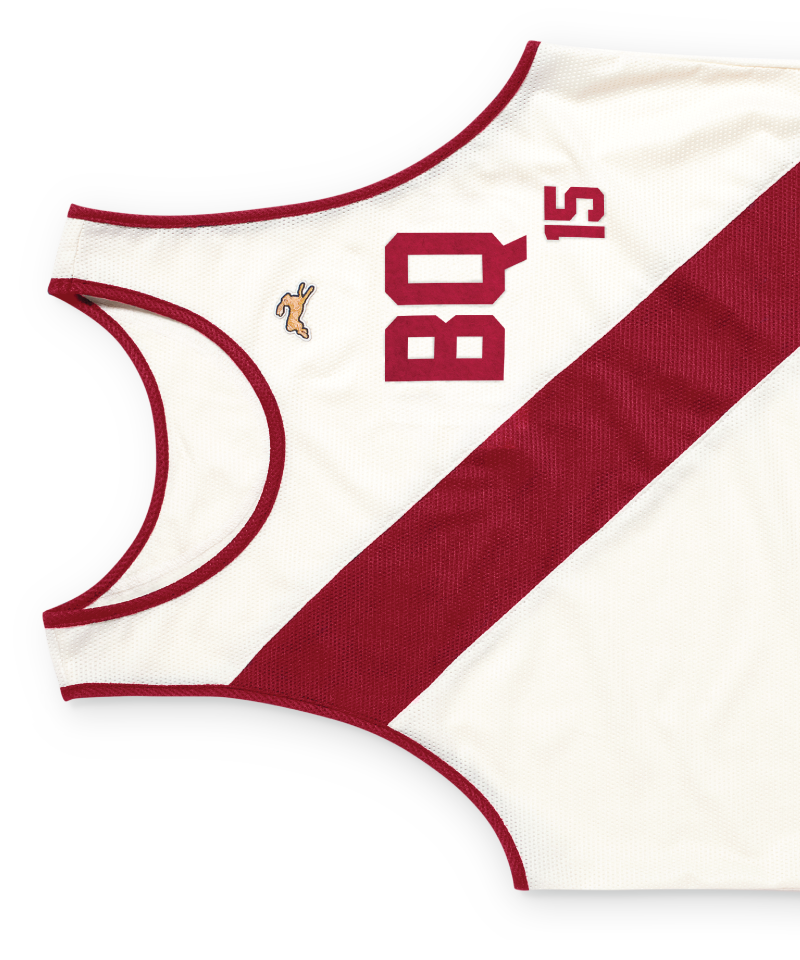 Around the corner from the expo, I stopped by a Tracksmith popup store, a premium performance running brand with a mission to make the highest quality running clothes and celebrate the amateur spirit of the sport. The Tracksmith BQ Singlet is reserved only for those who've both qualified and registered for the Boston Marathon. When purchasing a BQ singlet, they will cross-reference your order with the official BAA entrant database before approving your purchase. The true prestige of the Boston Marathon, I love it! While there, I joined for a live radio show / release party for their magazine METER issue #01. Matt Tegenkamp was a guest for the radio show and it was fun to hang around with him for a bit before he raced Boston on Monday.
The rest of the time before the race was spent sightseeing around Boston, resting, eating, and obsessively checking the weather for race day. The problem was that the forecast was getting worse every time I checked.
Race Day
It was a tough day in Boston. I'm glad I made it through. Cold temps and wind driven rain, my body couldn't handle it. I finished with a disappointing 3:21:08.
We got to Hopkinton at 7:00am. Three hours until race start. It was cool, cloudy, and dry. It actually felt perfect. I was with my friend and training partner, Gary. We camped out in one of the big tents setup for runners, a wise choice when it started raining about 30 minutes later. By the time we emerged at 8:45am, the rain had stopped and it had just left some wetness on the ground. As we walked to the race start just after 9:00am the energy began to build. I was getting excited and I was definitely wasting precious energy. I just kept thinking to myself, "if we can just beat the rain to the finish, everything will work out."
I was set to start in wave 1, corral 4 but I dropped back to corral 6 to start with Gary. Even up front, the start of the race was crowded. The first few miles involved a lot of weaving and getting boxed in. More precious energy being wasted. It kept us slow for the first few miles, we were hoping for 6:40 – 6:50 for the first bit. The congestion kept us slow without the reward of not working. Nevertheless, we felt good. We came through the 10K in 43 flat and it was all systems go. Then it started to drizzle.
The rain was on and off for a few miles. Enough to be annoying but not the end of the world. Around mile 9 it turned into a steady rain and it wasn't going to stop from here. We were wet. The sneakers were sloshing. But we were almost at the half.
As we approached Wellesley College we heard a roar in the distance. I turned to Gary and said "Is that.. girls?" You always hear the hype about the Wellesley girls. Never has something lived up the hype as well as this did. It really is indescribable. For about half a mile, you could hear nothing. Louder and more sustained than anything I've ever heard before. This is the kind of boost we all needed at this point. We trudged along through the rain with a kick of adrenaline and 13.1 right around the corner. The official split at the half was 1:29:44.
As we approached mile 14 I really started to feel the weather. The rain was still steady, the temps in the low 40s and the wind was beginning to pick up. I felt myself working harder and harder to stay warm. I started to feel lightheaded but knew it was only because my body was cold. "Just get to 15" I told myself. And I did. "Newton is next. Just get to 16". And I did. I came into the Newton hills with strong legs and a tired head. I ran the hills fine, only slightly slowing my pace to about 7:15/mile. When I got to the top, the real killer hit me. The 30mph headwinds coming from Boston. Soaking wet, freezing, and now the wind was stronger than it had been all morning. I broke.
The last 10K was miserable. I was cold, alone, and the rain seemed to be getting heavier and heavier. The support from crowds and fellow runners kept me going. I jogged along easily, trying to keep my body warm enough and fighting not to shiver. I slowly made it to the Citgo sign and finally made my turn onto Boylston. That was the goal. I was in Boston and there was the finish line only a few hundred meters ahead of me.

Splits (via Nike+ GPS):
Miles 1 – 13: 6:59, 6:59, 6:55, 6:38, 7:05, 6:34, 6:43, 6:41, 6:44, 6:50, 6:49, 6:46, 6:50 (1:28:33)
Miles 14 – 26: 6:51, 6:55, 6:44, 7:15, 7:20, 7:18, 9:08, 8:56, 8:01, 9:57, 10:06, 10:15, 10:52 (1:49:38)
Official Splits
Distance
Split
Pace
5K:
21:51
7:01
10K:
43:01
6:55
15K:
1:03:57
6:51
20K:
1:25:08
6:50
Half:
1:29:44
6:50
25K:
1:46:30
6:51
30K:
2:09:01
6:55
35K:
2:36:00
7:10
40K:
3:07:20
7:32
Finish:
3:21:08
7:40
The Finish
It felt like I had been out there for 5 hours. That was the longest 3:21 I've ever run. I wasn't as disappointed with the time as I was with my breakdown. I stood at the finish line shaking like a leaf, teeth chattering. I grabbed a heat blanket and it did nothing. I wandered out of the finish area to find Kristen and my dry clothing. Two medics grabbed me as I lost my strength and brought me inside telling me that I needed to warm up. It took a few minutes but we found Kristen and my dry clothing came inside so I could change. I was still broken.
I dried off, I warmed up, and I came home a Boston Marathon finisher. I feel better about the experience now and I'm no longer broken. It was a tough day and some made it through more easily than others, but we all made it. We all won that day. This was my 10th marathon and my 10th state and I have officially joined the 50 States Marathon Club. I can't wait to see where my feet take me next!