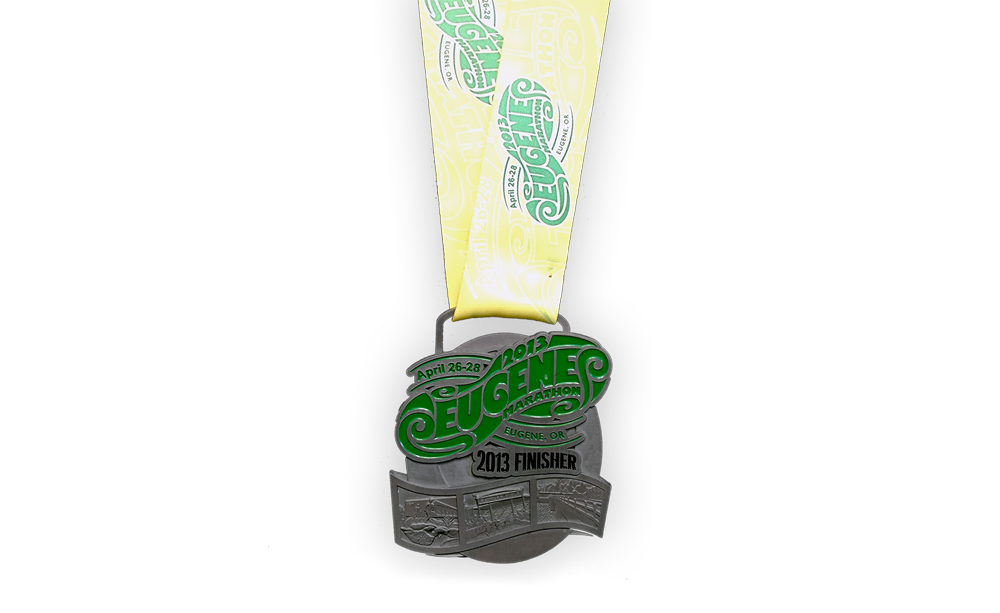 DATE: Sunday, April 28, 2013 7:00am Race Start
LOCATION: Eugene, OR Start/Finish: Hayward Field: Course Map
WEATHER: 48 degrees, Cloudy / 3 mph W wind / 53% humidity
---
Why Eugene?
Why Eugene? I must have been asked this question dozens of times in the past few weeks. So, why? Because it's TrackTown USA! I've become fond of traveling for a big race, especially a marathon. I like to escape for a few days before the race and surround myself in the atmosphere. Eat, sleep, and breathe running. Back in the fall I narrowed it down to three candidates:
4/28: Eugene Marathon: Oregon
5/19: Pocono Marathon: Pennsylvania
5/19: Shires of Vermont Marathon: Vermont
Besides having the earliest date, which was very appealing to me, every runner knows that Eugene is special. Once I accepted the fact that I would need to dedicate some days to travel, the decision was easy to make. I was going to make my first trip to Eugene, Oregon and pay homage to one of the most historic cities in U.S. running.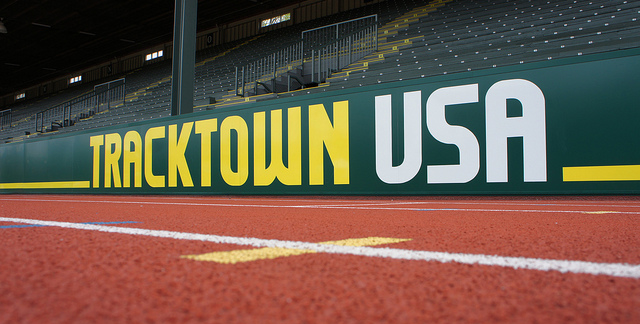 Welcome to TrackTown USA
As soon as you take your first step off of the plane in Eugene you know you're somewhere special. You're in TrackTown. You're in Duck Country. The University of Oregon (UO) is a dominante presence in Eugene and it's easy to catch the fever. UO is a member of the Pacific-12 Conference and the Division I Football Bowl Subdivision of the NCAA. The athletic programs have garnered 21 NCAA team championships, as well as 60 NCAA individual champions in various track and field events.
Eugene is the birthplace of Nike and it is never clearer upon a visit to the Nike Running store in Eugene. There was history in the air even though the store is fairly new. Bill Bowerman, Phil Knight, and Steve Prefontaine cover the walls while a replica of the original "Nike 1" van sits in the middle of the floor. Everyone at the store was extremely friendly; we became friends instantly. Nike Running Eugene was a great host before, during, and after the race; they definitely made my stay more welcome!
One of the most famous track and field facilities in the world, Hayward Field is the crown jewel of TrackTown USA and has been the site for UO track and field for over 92 years. The UO campus was beautiful and the weather was perfect. Finally getting to see this track in person was amazing. Knowing I would get to run on it in just a couple of days made me anxious.
Pre's Trail
Follow in the footsteps of Prefontaine. This scenic running trail located in Alton Baker Park is a soft, bark covered trail and has loops from 1 mile to 10,000 meters. Upon stepping onto the trails you will understand the mystique and beauty of running in Eugene. I'm not sure if there was something in the air or something in the trails, but this run felt special. I ran an easy 4 miles (which ended up being close to a 6:35 pace, much faster than I wanted to be doing). It was tough to make myself stop. Soft, scenic, and quiet, I felt like I could run loops here forever.
Pre's Rock
As every runner should, I took a trip up to Pre's Rock to pay my respects. It was a Thursday afternoon so it was unusually quiet up there. I found myself chatting with 2012 double Olympic champion Mo Farah and his family, reminiscing about Pre's life and running career. It made a special moment doubly as special. I was happy to meet Mo and make a new friend!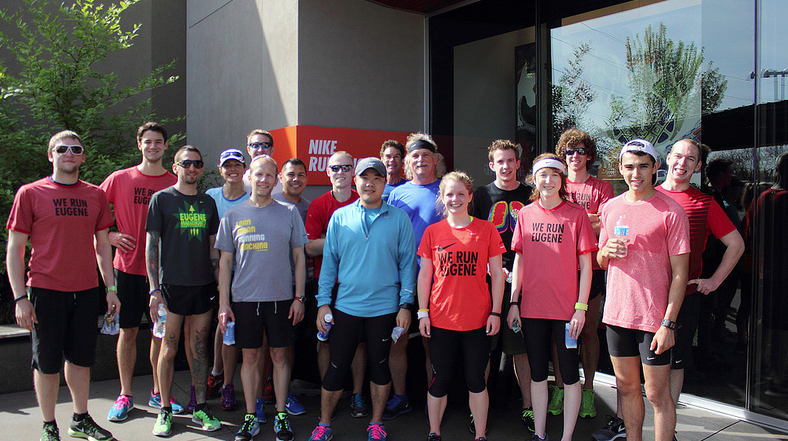 Race Day
The course was a lot tougher than it was made out to be. A lot of the run was on a winding, rolling, concrete bike path. Killed my feet. The Willamette Valley region is nicknamed "Valley of the Sickness" because of the severity of seasonal allergies. Killed my breathing. The allergies were really what I was fighting the whole way and it was a hell of a battle! I held on until mile 22 and started to fade. At mile 23 the sun broke through the clouds and it instantly went from warm to hot. I felt like I finished the race in survival mode, but after looking at my splits it didn't look THAT bad. I think I felt a lot worse than it seemed. I missed my Boston time by 2 minutes, but came away with a huge marathon PR of 3:07:27! If this was 2011, I'd be going to Boston.
Splits (via Nike+ GPS):
Miles 1 – 13: 6:55, 6:55, 6:58, 6:57, 6:51, 6:57, 6:51, 6:57, 7:01, 7:03, 7:03, 6:55, 7:04 (1:30:27)
Miles 14 – 26: 6:58, 7:03, 6:58, 7:13, 7:18, 7:13, 7:31, 7:31, 7:19, 7:31, 7:59, 7:59, 8:01(1:36:34)
Official Splits
Distance
Split
Pace
5K:
21:39
6:58
10K:
42:54
6:55
Half:
1:30:57
6:57
20 Mile:
2:20:01
7:01
Finish:
3:07:27
7:09
Thank You!
As always, thank you to everyone who has helped and supported along the way! A special thank you to VT for being a great training partner/motivator and to Jamie for being a coach, mentor, and voice of reason. I kept my splits pretty even, guys!