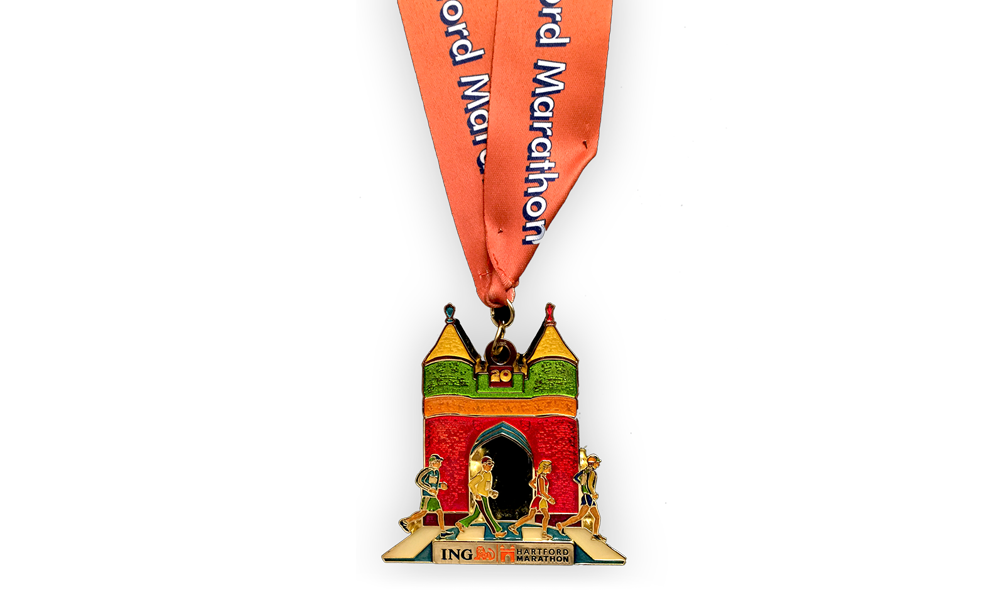 DATE: Saturday, October 12, 2013 8:00am Race Start
LOCATION: Hartford, CT Start/Finish: Bushnell Park: Course Map
WEATHER: 58 degrees, Partly Cloudy / 8 mph NE wind / 90% humidity
---
It was a rough day in Hartford. This was the first time I ever crashed so hard in a marathon. What a terrible feeling! I crossed the finish line feeling more beaten up emotionally than I did physically. I instantly let it get in my head. Fortunately I was brought back to planet Earth pretty quickly by all of my friends and loved ones. Everyone has bad races and the important thing is that you learn from them. Everything is a learning experience.
Training
I never liked training for a marathon in the summer. It's hot, it's humid, it's sticky, and life commitments are always getting in the way. Still, I had a pretty solid summer. I was running a very consistent 50-60 miles per week but lacked any long runs. This meant lots of doubles and not many days off. I had a few 20+ day streaks of at least 5 miles per day but only had a couple of 13+ milers. I've read multiple times that this translates okay for marathon training, the miles are the miles and that's what counts. I found this to be both true and false. If you're training to finish, it's fine. If you're training to race, it's completely unacceptable.
The second to last week in August I was asked to help counselor a XC camp for high school runners. This was a great opportunity and I accepted gratefully! We had about 300 kids from across the tri-state area and there were some real studs there. I got to talk to the group about marathon training, racing, and my life as a runner. I also got to run apx. 15 miles a day with them. Some of these kids had some real heart and I definitely met some great guys (especially the Islip boys XC) and it was a solid running experience. However, I came home burnt out. It took me about a week to recover but I was still feeling shot. I peaked at camp. I left my heart there. My legs recovered but my mind was tired.
I maintained my training and in September I threw in an 18 miler and and 20 miler and they both felt pretty great, but both were both run at an easy 8:00 pace. I ran a 10 mile predictor on September 8 and came through in 66 minutes. Not bad, but my goal was for 60-63 minutes.

Race Day
Despite my unorganized training, I approached the starting line full of ambition, energy, and high hopes. I was looking for a PR even though I didn't train for it. I was invited to join the seeded start, Hartford's version of a local elite corral. I was toeing the starting line with some the fastest runners there. The energy was great. The gun went off and I went out in typical fashion; I went out like I had trained to race this thing. Only problem was that I had only trained to run it.
I came through the half pretty close to where I wanted to be but I felt myself starting to fade; I knew I couldn't hold on. I slowed down. It only helped temporarily. I eventually crashed around mile 18. I'm not sure if it was the rolling hills in the first half, the warm day / sun, or just being over trained in general and under trained for the distance. But I bonked. I know now that if I went out at a comfortable pace I would have been fine. That was the plan but I didn't stick to it. I paid.

Splits (via Nike+ GPS):
Miles 1 – 13: 6:52, 6:49, 7:01, 7:15, 6:59, 7:02, 6:55, 7:04, 7:09, 6:55, 6:57, 7:06, 7:29 (1:31:29)
Miles 14 – 26: 7:29, 7:45, 7:43, 8:14, 7:58, 8:21, 9:42, 10:38, 10:52, 11:11, 10:24, 10:18, 9:41 (2:00:16)
Official Splits
Distance
Split
Pace
Half:
1:33:05
7:07
20 Mile:
2:29:27
7:29
Finish:
3:34:58
8:12
Lessons Learned
Without any failures you'll never have any great successes. I learned some valuable lessons from this race that I'll hold onto dearly in my future training.
If you want to run fast, you need to run with guts;
If you run with guts, there is a chance you'll fail;
Train for what you run and run what you've trained for;
Respect the distance and always train seriously
I'm going to be taking these lessons with me into every race registration, training regime, and starting corral from here on in. I look forward to letting myself recover a little while planning my winter training schedule, my preferred training season! I haven't picked out a spring marathon yet but I promise that when I do I will train smarter and come back stronger and faster than ever in the spring.