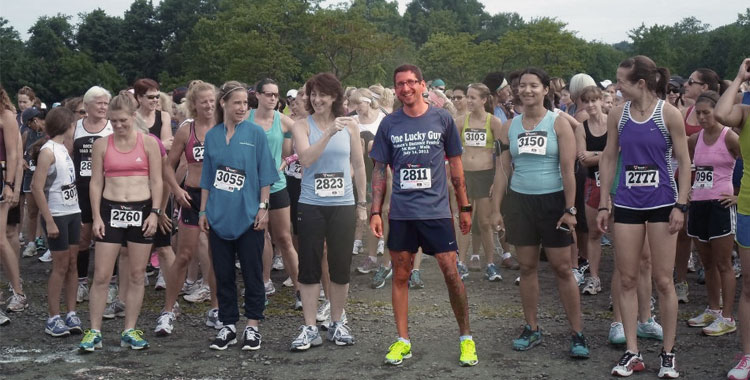 For 25 years, the Women's Distance Festival 5K has been the only women's running or walking event in Rockland County. This race is presented by Rockland Road Runners and as always the proceeds will benefit the Rockland Family Shelter, a not-for-profit agency that helps victims of domestic violence and sexual assault. For the 25th anniversary, the race included One Lucky Guy who would get to run in the all-women 5K. He would win the Male division and set a new men's record in the process.
I was selected to be the One Lucky Guy.
In years past I have volunteered for the Women's Distance Festival, but on Saturday I finally got to compete in it. It's hard to describe how I felt walking around before the race. I was wearing my special "One Lucky Guy" t-shirt and it was difficult to take more than 5 steps without someone stopping to talk to me. The feeling was special. I became the first male to run in the annual Women's Distance Festival and it was a true honor to run with so many amazing women for such a great cause.
Thank you for your participation in moving women forward! So glad you were the lucky guy – we need more of you!
This year's race was won by my friend and running partner Caitrin Demchko, of Pearl River, who finished the race in an official 19:13. I ran most of the 3.10 miles with Laura Dimarino, a close running friend. Laura finished a couple of steps ahead of me and secured a 3rd place finish. My favorite photo from the event, below, is a shot of Laura and I at the finish line. Laura has always been part running partner, part coach, part rival, and all heart. This is what running is all about.
Some press about the race:
Women's Distance Festival: 424 women, one man run Rockland 5K
Rockland Road Runners Host Annual Women's Distance Festival