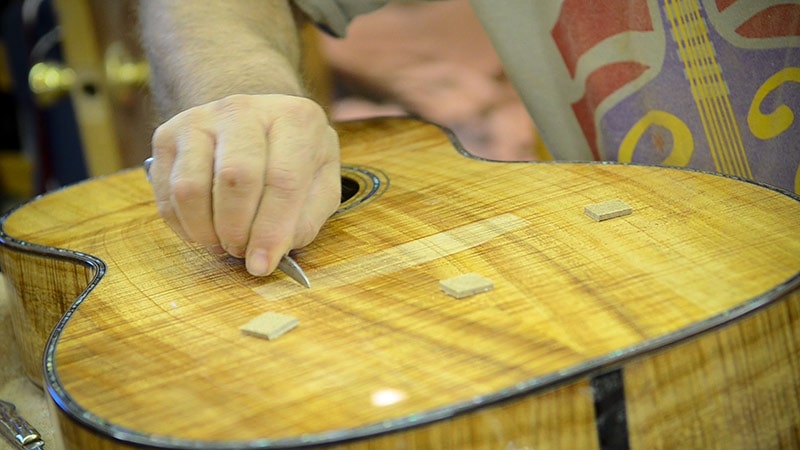 I recently read Clapton's Guitar, by Allen St. John, a tale about Wayne Henderson, the renowned guitar maker who specializes in the crafting of handmade, custom acoustic guitars. One chapter in particular really jumped out at me. Titled "Clean on the Inside", it focused on how Henderson spends so much time perfecting the inside of the guitar, which will never be seen — except, perhaps, by another guitar maker doing a repair one day in the distant future. In Wayne Henderson's words:
"It's just showing pride in your craftsmanship, I guess. That's what my guitars are known for, being clean on the inside."
He sands, smooths, inspects, and cleans every imperfection before assembling the instrument — all delicate precision work that will never be fully appreciated. Why? Because that's the kind of person Wayne Henderson is, and it is a complete reflection of his character. He lavishes an amazing amount of attention on the hidden details of every guitar, and every one of those guitars is a self-portrait of its maker. This is part of the magic that makes a Henderson guitar so special.
Remember this, and remember that everything you do is a reflection of your own character. Take pride in your work. Whether you're making guitars, writing code, balancing budgets, or folding your laundry— it shouldn't matter. Let the task be a self-portrait of its maker. Think of Wayne Henderson smoothing out the inside of a guitar with 800 grit sandpaper before sealing it away for good. Think of the smooth journey those notes get to take as they leave the guitar. Make sure your work is sanded, smoothed, and cleaned to perfection. Make it an extension of yourself, something you will be proud of. Make sure it is clean on the inside.