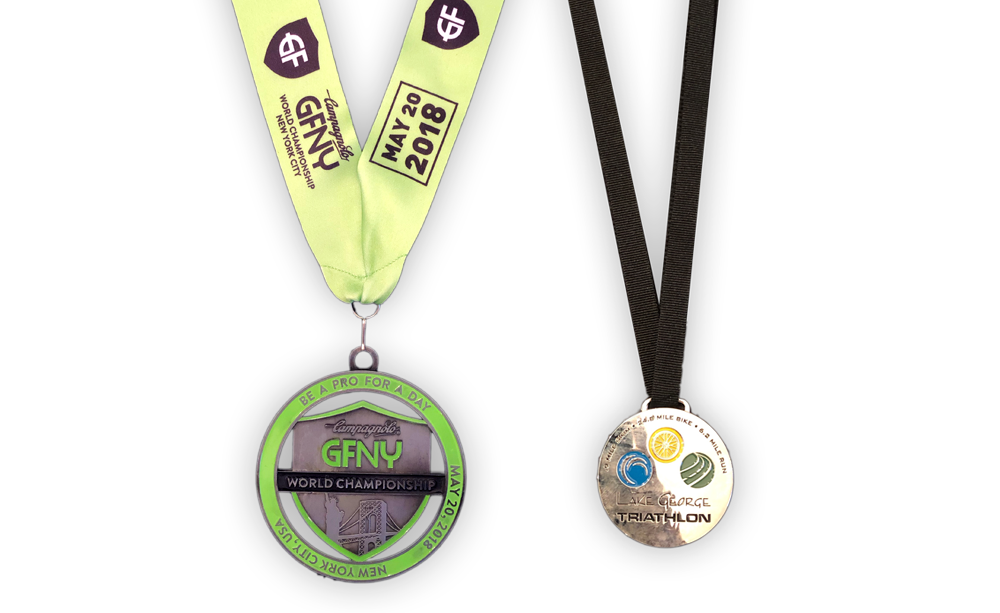 It's been awhile… The past few years have been a bit of experimentation, a bit of burn out and a bit recovery. I feel like I've done a lot but I haven't done anything at all. It seems like I was just training for a marathon last month but it's actually been 2 1/2 years. Since then I've learned to love the adventure of a good bike ride (even the climbs!) and I've fallen victim to the gamification of Zwift. I've kept busy, I've rested and I've gained a few pounds – some in muscle, some in doughnuts! Though it feels like a lot of the time has been a blur, I did knock off a few accomplishments. Here are two of them:
Lake George Triathlon Festival
DATE: Saturday, September 2, 2017 7:00am Race Start
LOCATION: Start / Finish: Million Dollar Beach, Lake George, NY: Course Map
WEATHER: 40 degrees, Sunny / 2 mph WNW wind / 80% humidity
DISTANCE: Olympic (0.9 Mile Swim / 24.8 Mile bike / 6.2 Mile Run)
---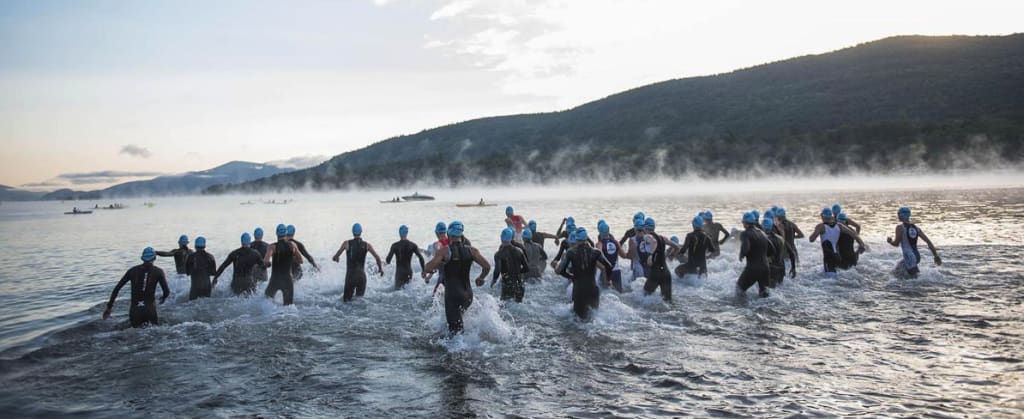 The first question I asked myself was "why?" I was running well, staying pretty injury free and was very involved in the running community. I guess I was a little bored, a little burnt out and a little curious? After running a 2:58 at Sugarloaf Marathon I lost a certain motivation. My running goal was always a sub 3:00 marathon. But then what? I'll keep rolling through the 50 states but I lost that sense of challenge.
So let's talk about swimming. People would always ask me if a triathlon was in my future. I was a strong runner and I liked to bike casually. But I couldn't swim. Well, I could swim but I couldn't swim. I mean, I could jump into a heated pool on a sunny July afternoon and swim from one side of the pool to the other to get my beer. But I couldn't swim laps. My Freestyle/Front Crawl involved never putting my head underwater because I didn't know how to breathe properly and I'd panic any time my face went under. This always bothered me. I'm an athlete, I should be able to swim laps in a pool. I had a challenge.
After going to a couple of local seminars I wound up catching the bug and hired Chris Kaplanis at Ridgewood Triathlon to coach me. The first session was… humbling. But we all have to start somewhere. We went over some very basic drills and breathing exercises. I was going to the pool multiple times a week and standing at the side of the pool dunking my face in and out of the water. I never felt silly, I only felt like I was making progress! And it didn't take long. After only a few sessions I was swimming laps. After a few more weeks of practicing I was swimming for 30 – 60 minutes per session. It was amazing.
Training was pretty whatever. At the time I was working a fairly demanding job with a commute into Manhattan so there were many early morning and late night workouts. All of the workouts seemed short in distance but most of it was done solo. It's hard to plan a brick with anyone that isn't triathlon training. The roadies want to ride longer and the runners want to go out early in the day. (A nice bonus: I was able to roll the training right into marathon training for Rehoboth Beach Marathon, so after the triathlon I was able to hop into group runs for some much needed company!)
The summer went on and all of my swimming was in the pool at the gym. I knew I needed to get into a lake for some open water swimming. And I was running out of time. It's not so easy to just suit up and hop in a lake! Luckily I have a good support crew. Andrew helped get me fitted for my first wetsuit and Bill met me at Walton Lake to teach me all about open water swimming. I wasn't as terrified as I thought I would be – though I definitely missed having the crystal clear water and line at the bottom of the pool! We swam out about .25 mile and back, then repeated. I got a crash course on sighting and found my peace.
Race Day
Kristen and I drove up to Lake George for a beautiful Labor Day Weekend. The weather forecasted for race morning was cold but sunny with nice temps as the day went on. I was most concerned about the bike ride. I'd still be wet from the swim and temps were forecast to be in the 40s. We made an emergency trip to the outlets and I found a good Under Armour wind breaker that fit nicely for the bike. Problem solved. (side note: the next day was the Big George Triathlon (Half) which was cancelled halfway through the bike portion because of cold temps and wind driven rain. Luckily we were in the car on our way home by that time.)
The morning sure was chilly but I was energized! The race went a little something like this:
Swim: I warmed up in the water and felt decent. When the gun went off and everyone got swimming I freaked out. The first 1/4 of this swim was pretty much a breast stroke and back stroke. The crowd with the heavy fog made me panic. The second 1/4 was a bit better. On the way back to shore I found my rhythm and swam back feeling good. Take away: More OWS in training.
Transition 1: Got out of the wetsuit easily but had to pee. Need more practice here. I took forever.
Bike: I collected myself and hopped on the bike. Felt great here. I probably could have pushed it more but also don't feel like I took it easy. They had to re-route the course due to a fallen tree on 9L so we lost about 1.5 miles. Take away: Get more serious training on the bike.
Transition 2: Forgot to click into transition when I hopped of the bike so I hit it as I was racking my bike. This went pretty smoothly otherwise.
Run: There were some hills and I psyched myself out a bit thinking I would get tired. But I never did. I should have crushed this run. It was two 5K loops and my second 5K was faster than my first. I finished around a 6:00 pace and had plenty of gas left in the tank. Still happy with the results though. I was flying past everyone. Take away: Treat the run like a running race.
Official Splits
Distance
Split
Swim (0.9 mi):
42:24
Transition 1:
5:56
Bike (24.8 mi):
1:20:13
Transition 2:
3:15
Run (6.2 mi)
47:31
Finish:
2:59:19
The Finish
Once I found my rhythm in the water everything went well! The whole race was a non-competitive relaxed journey for me and I had fun the whole time. I got my feet wet and gave it a tri! I felt accomplished and conquered a fear that kept me out of triathlon for years. I was a bit hungry for more. But not quite hungry enough.
---
GRAN FONDO New York
DATE: Sunday, May 20, 2018 7:00am Race Start
LOCATION: Start / Finish: Fort Lee, NJ: Course Map
WEATHER: 61 degrees, Cloudy / 0 mph wind / 100% humidity
DISTANCE: Century (100 Miles)
---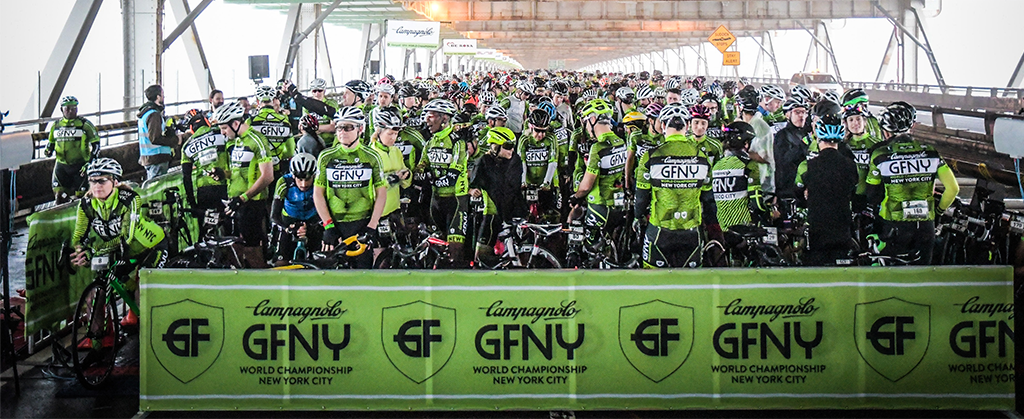 Training for the triathlon helped me find a happy place on my bike. There was a sense of adventure that I didn't get while running. Riding 40, 50, 60 miles… You can really get around and see some new places. Plus, I wasn't very competitive on the bike so I was able to just enjoy the ride – something I was struggling with on my runs.
I think we were actually in Lake George when I got a text from my friend Clay. He had just signed up for the 2018 NY GRAN FONDO that coming May. I had already consumed a few glasses of wine and enthusiastically replied "I'm in" while grabbing my laptop and signing up. It had been on my list and I had talked about it for the past year or so. I guess all I needed was a little push. Or some wine.
After Rehoboth Beach Marathon I used the holidays to rest and to start thinking about training on the bike. Getting through the winter would be tough. At that point I had an Elite Qdoba classic indoor trainer (a "dumb" trainer). I used it here and there but never really liked it. I figured it was time to upgrade because I knew I'd have to embrace indoor training. On New Years Eve I went down to the bike shop and picked up a Wahoo Kickr. The Kickr + my Zwift subscription was such a solid combination. I got sucked right into Zwift once I was on a smart trainer. I never looked back.
2018 was a cold winter. The first few weeks of January the temperature didn't even get above freezing. And spring didn't come early. This meant a lot of training on Zwift. And I had a blast! Once the weather did break I tried to get outside as much as possible, mainly for longer rides on the weekend. I was feeling good with the mileage but wasn't doing much climbing. And I was already convinced that climbing on Zwift did not translate to climbing in real life. This was going to be my psychological weakness.
As my outdoor riding increased I started to develop pain in my left shoulder + upper back after a few hours in the saddle. I knew this would be a physical weakness. I attributed it to a weak core – mainly because I know I have a weak core – because I noticed that I would slump over as I got tired, letting my shoulders take all of the load. I had a hard time keeping my core engaged. This lead me to start getting regular massages which is probably a good thing in the long run! Note: I'm still struggling with this today and my core is still weak.
Race Day
100 miles with 8,500 ft. of climbing. This was going to be brutal. Next time you're on a plane pay attention to when your altitude hits about 8,500 ft. and look down. Now think about climbing that on a bike in a matter of hours. (Light aircraft typically stick close to 10,000 feet for cruising altitude).
It was an early start on race day. The alarm went off at 3:00AM and I reluctantly rolled out of bed to get ready. I shuffled over to Clay's house where I met him and his pal Brenton. We packed the car and headed down to meet Tony in Fort Lee. It would be the four of us riding together. The race starts on the lower level of the George Washington Bridge which means you have to find parking in Fort Lee, ride over the bridge (upper level bike path), turn around in NYC and get back on the bridge heading westbound. We got ourselves together and headed out. We rode easy with dozens of other cyclists as the sun was starting to come up. About three quarters of the way across the bridge we heard a pop and a pssssh. Tony looked down to see a nice sized nail sticking out of his tire. He was able to get to the start area where there were various support stations setup. After a long wait, the tire was repaired and the tube blew out. Some more waiting as the crowd thinned and we heard the national anthem playing. Finally, race officials forced us to move to the bridge and leave Tony behind. With a SAG vehicle behind us we were officially the last to start the race. Clay, Brenton and I, the three amigos with Tony somewhere behind the SAG.
The three of us took off into New Jersey passing plenty of cyclists along the way. Spoiler: we may have been the last to start but we sure weren't the last to finish! It was cloudy and drizzling all the way up 9W into Piermont and I definitely had a "what the hell am I doing?" moment. We found Tony at the Piermont rest stop and we were whole again. As we were leaving Nyack the clouds broke and the sun started to come out. It was turning into a beautiful day and my "what the hell am I doing?" moment faded into a distant memory. What an adventure this would be outside all day on a perfect spring afternoon!
We carried along up 9W feeling great. Most importantly, we were having fun! We were chatting and joking and smiling the whole time. That became the theme of the whole ride: let's have fun! Like most cyclists I was thinking about Bear Mountain. I had run it multiple times (great for a serious hill workouts!) but I had never climbed it on a bike. Furthermore, I hadn't done much serious climbing (there's that psychological weakness!)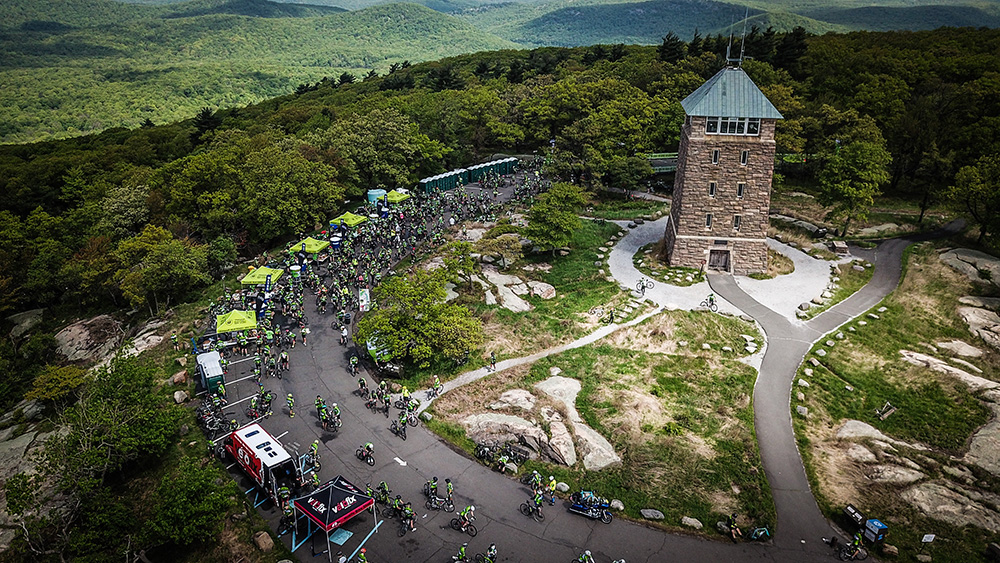 Bear Mountain is the big daddy of GFNY. It's long enough to be intimidating for a flatlander and it would still be considered a climb by mountain goats from Colombia and Switzerland. All in all, Bear Mountain is a very doable climb. Most riders find the steady, moderate gradient pleasant because it allows you to find a rhythm. There's only one slightly steeper patch. Climbing Bear Mountain during GFNY is exhilarating because you not only have many riders around you to climb with but also can watch the leaders descend because the route is an out-and-back.

GFNY 100 riders, be advised: GFNY veterans can attest that Bear Mountain is by no means the "half way" point of the race, but rather the beginning of the core of the race with significant climbing following Bear Mountain.
So, turns out it really wasn't that bad. I managed it properly and felt great at the top! We rested a bit and then headed off for the next 50 miles. I didn't read the "GFNY 100 riders, be advised" until after the race. As I soared down Perkins I smiled to myself thinking "half way there!" Oh, was I wrong. The hills after Bear Mountain were brutal.
Near the 100K mark (~62 miles), right after we ascended Cheesecotte, I was done. At the next rest stop (Ramapo, mile 68) I told the group I was dropping out. They wouldn't have it. They convinced me to ride to the next rest area (West Nyack, mile 80) and decide then. Well, the ride from Ramapo to West Nyack was great! Net downhill with some rollers but mostly flat. It got my legs spinning again and my energy returned. When we got to West Nyack I had no desire to drop out! I ate some pizza and we got on our way towards 9W. It also helped that we were only 20 miles away and the end was in sight! I've been on those roads a hundred times and knew what to expect. This was my home turf.
Official Splits
Distance
Split
Finish:
8:34:20
The Finish
I stayed strong in the last 20 miles, even surging a bit down 9W. I really got a second (or third?) wind. We finished together with smiles on our faces! Success! At that point it was almost 4:00PM and we were exhausted. We grabbed our medals and got out of the finish area right away. A short ride back to the car and we were on our way home.
So, Now What?
Well, as of writing this it's been two years since GRAN FONDO New York and I haven't done too much. I've thought about doing another century, I've thought (a lot) about doing a Half Ironman and I came really close to signing up for a couple of spring marathons this year. But I haven't committed to anything. I've been cycling a lot (still hooked on Zwift!) and had a few false starts trying to start running again. As I sit here in the middle of the COVID-19 pandemic – with all races cancelled for the spring and going into the summer – I'm happy to have some time to reflect. Hopefully I can emerge with some goals for 2021!