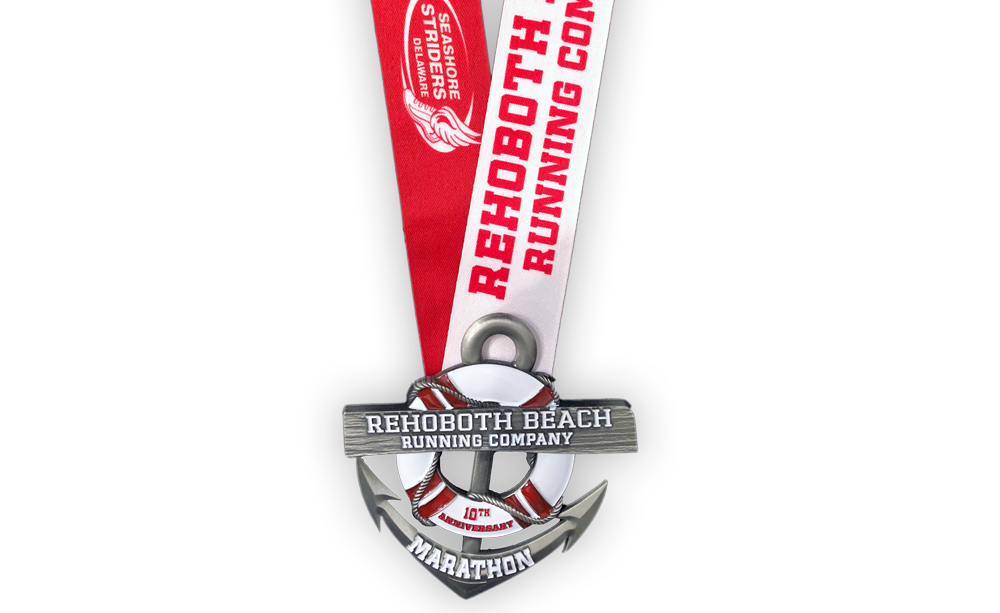 DATE: Saturday, December 2, 2017 7:00am Race Start
LOCATION: Start / Finish: Rehoboth Beach, DE: Course Map
WEATHER: 44 degrees, Sunny / 2 mph SW wind / 64% humidity
---
This one wasn't about me. My wife, Kristen, picked this to be her first marathon and I was along for the ride. She has family in Rehoboth, she loves the beach, and it aligned with our schedules; it seemed like the perfect choice. Back in July we made the commitment and she registered for marathon number one! I committed to go through the training with her and be there for support through the ups and downs. I had one goal for this race: Finish in time to see Kristen cross the finish line.
Training
We settled on the Nike Finish a Race training plan which is about as entry level as you can get. Typically 3 runs a week, peaking with a 35 mile week. I missed the first few weeks of training due to an olympic distance triathlon on September 2nd. Luckily the long runs synced up and the my endurance was built up from the triathlon. I took a few days to recover after the triathlon and that next weekend I jumped into my first marathon training long run, which was a 10 miler. It was great timing and overlap!
All of my training was around 7:30 – 8:00 pace with a few quicker runs thrown in. I had my magical 8:00 marathon pace in the back of my head which would be about a 3:30 marathon – this has proven time and time again to be my marathon sweet spot. A week before the race an old running friend, Glenn, mentioned that he was running Rehoboth Beach and was after a BQ. His time needed to be under 3:30. Now I had a second goal: Get Glenn to Boston.
The weekend before the race I went out for my final long run, which was set to be an easy 13. I developed some bad pain in my left ankle around mile 7 so I cut it short at 10. It seemed like some sort of tendentious. I was training in a pair of Adidas Adizeros and I think I just tweaked it at some point in the training. I laid low for the week and rested it up. As I was packing I made a game day decision to switch to a pair of Nike Elites for race day. Not the best idea, I know, but it wound up saving my ankle.
Rehoboth Beach
We got down to Rehoboth Beach on Friday afternoon. I had this perfect vision in my head of what I thought Rehoboth Beach would be like. You know that unrealistic utopian ideal that we make up inside of our heads before we visit someplace new? Well, Rehoboth Beach didn't disappoint. From the moment we arrived, everything seemed perfect. We stayed at The Avenue Inn, right on the main drag. Everything was dressed beautifully for Christmas, the streets were bustling with shoppers and the overall vibe was super relaxed. It helped that The Avenue provided free wine and cheese (from 5:00PM – 6:00PM) and fresh home baked cookies (from 8:00PM – 10:00PM), had a beautiful fire pit outside and a nice pool / hot-tub / sauna combo. Packet pickup was fun, it felt like more of a party instead of an expo. There were even guest appearances by local celebrities, like Dede, the unofficial mascot of the race! There was something really special about the running community in Rehoboth Beach. It felt like a family welcoming you with open arms. After we got packets we met Kristen's cousin, Kyle, for dinner at Nicola Pizza and got back to the hotel room to lay out our gear and get ready for bed!
Race Day
We woke up anticipating a cold start but the weather was showing low – mid 40s, about 10 degrees warmer than we were expecting. As we walked to the start (about 2 blocks from the hotel) the sun was coming up and the air was very comfortable. We got to the bandstand, dropped off my bag and took in the sunrise over the ocean. It was a beautiful start, even a bit relaxing. With about five minutes to go we wished each other good luck and found our proper positioning in the crowd. With the national anthem about to start I spotted Alister, Glenn and Wojtek. I ran over and we were ready to start.
The gun went off and we got to work. Glenn's plan was to run the first 10K between 8:00 – 8:15 then maintain 8:00 until mile 20 and pick it up for the last 10K. In typical marathon fashion, we got a little caught up in the start and went out a little fast. We corrected ourselves and focused on maintaining. The course was BEAUTIFUL. The half marathon broke off at mile 3 and we rejoined the course around mile 17. This let the race thin out pretty quickly as we entered the state park. The views were amazing and the running path felt great. This was the meat of the race and every mile was truly majestic. Around mile 5 I started to feel some really bad pain in right big toe. The sneakers. I wasn't used to running in them. It was superficial pain so I was able to get through it but every step hurt the rest of the way. I knew I'd have a nice black toenail waiting to greet me at the finish but my ankle was feeling good with the extra support. So I had to sacrifice my toe to save my ankle.
When we rejoined the half marathon it felt good, felt like we were coming back into civilization. Around mile 19 we passed by the finish line and got a much needed surge of adrenaline. We saw Wojtek (who just ran a PR in the half!) and he jogged along with us, cheered us on, and snapped a few photos. We felt great! We had about 3.5 miles out and back as we went into another state park and another beautiful running path. However, this was the last 10K and instead of feeling serene it felt a bit more secluded. Around mile 21 Glenn picked it up as planned. I felt my tank depleting so I stayed in tempo, ticking away my 8:00 minute miles. Around mile 23 the tank was empty.. I know, I know, only 5K to go! I eased it up, took a couple of walk breaks and brought it home.

Splits (via Garmin GPS):
Miles 1 – 13: 7:46, 7:51, 8:09, 8:02, 8:17, 8:08, 7:59, 7:42, 8:00, 7:58, 7:55, 8:03, 8:00 (1:43:50)
Miles 14 – 26: 7:49, 8:00, 7:58, 8:07, 7:55, 7:54, 8:01, 8:04, 8:04, 8:34, 8:18, 9:08, 10:05 (1:47:57)
Official Splits
Distance
Split
3 Mile:
23:57
6.3 Mile:
50:25
10 Mile
1:20:20
Half:
1:44:35
22 Mile:
2:56:14
Finish:
3:34:41
The Finish
Despite the little bonk I felt pretty good at the finish. The sun was out for the last part of the race and I was warm. Glenn was waiting for me at the finish line with a big smile. He ran a strong 3:27, negative split the race, grabbed a PR and punched his ticket to Boston! It felt good to immediately towel off and change into some dry clothes. I was back to the finish line area with 3:45 on the clock. I watched with Wojtek, Ali and Glen as we waited for Kristen's bright pink shirt to come into view from the distance. She looked good as she came into view! As she got closer we saw that look on her face. She was finishing her first marathon and she was in freakin' la la land! We ran over to meet her at the finish line where she smiled, she cried, she laughed, she posed for pictures! She came through in 4:16:35 and she was officially a marathoner!
We took the quick walk back to the hotel to clean up and went back to the finish line to check out the after party. What a party! Plentiful free food, beer, music and dancing! After filling up we went back to celebrate with some RRR folks who were down for the half marathon. A few glasses of wine, a hearty dinner at The Blue Hen and we were asleep in bed by 8:30PM to start our recovery!
I decided to take the month of December off to regroup and relax. Next up is NY Gran Fondo in May, my first 100 mile bike ride. Not sure if I'll be able to squeeze another marathon in before the fall. We'll see where the roads take me!