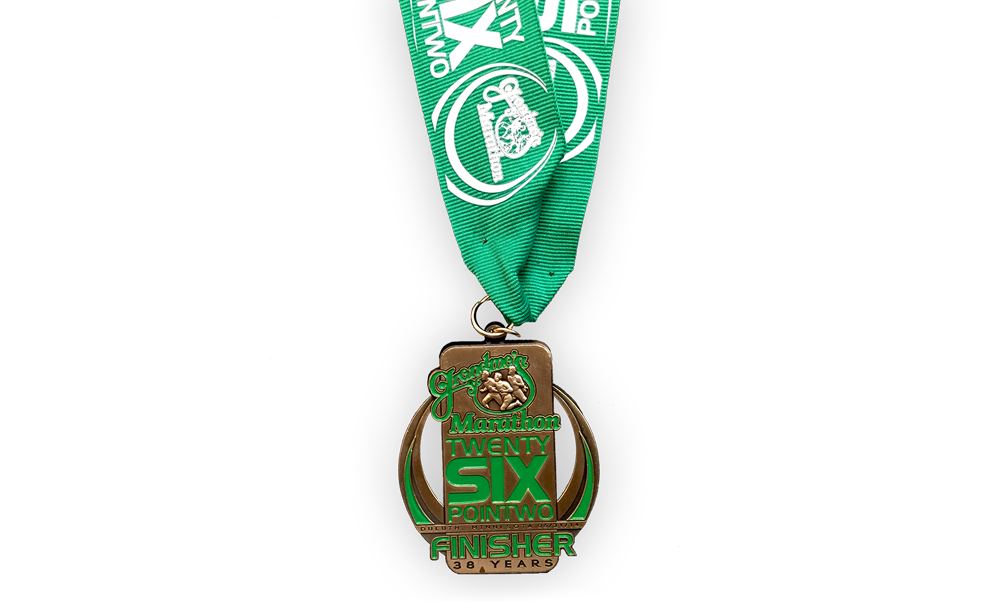 DATE: Saturday, June 21, 2014 7:45am Race Start
LOCATION: Start: Two Harbors, MN / Finish: Duluth, MN: Course Map
WEATHER: 48 degrees, Fog & Drizzle / 5 mph NE wind / 90% humidity
---
It was 4 weeks since Sugarloaf. I was still fit but I was tired; ready for a little summer rest. My weekly mileage between the marathons was light: 15, 25, 35, 25 with one 13 miler in the mix. By the time mid June came around my legs felt rested again. It was time to run a fun marathon with no pressure.
Grandma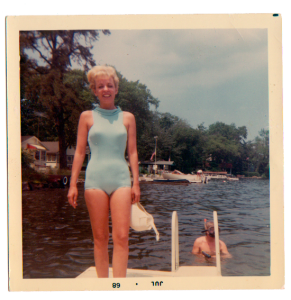 On November 1, 2013 my grandmother passed away at the age of 85. In August she developed shingles and never fully recovered. In September she suffered a stroke and by the end of September her condition continued to get worse. We made the decision to bring her home on Hospice care. It was tough losing her, she was a big part of my life. I'll always remember going to eat dinner with her every Sunday and never being able to eat enough to make her happy, even with a long run in the morning. We could sit and chat for hours, she was always there to listen and never there to criticize. She was one of my biggest fans and biggest supporters. I have a saved voicemail from her on my phone from 2012 when I was running the Chicago Marathon. I've listened to that voicemail after every marathon since she fell ill, but listening to it this time meant something different.
I knew that my grandmother would be out there with me through every mile. This was for her, not for me. I knew she was smiling down and proud of everything I was doing here.

Fundraising
I decided that this year I would run Grandma's Marathon in my grandmother's memory. I would find a charity that meant something to her and do private fundraising. I would bring her with me in memory and in spirit. I chose The Association for the Visually Impaired (AVI), a private, non-profit, 501(c)(3) organization, founded in 1973, serving blind and severely visually impaired residents of Rockland and Orange Counties in New York. Services are provided on a one-to-one basis.
My grandmother was diagnosed with macular degeneration a few years back and she spent the last couple years of her life legally blind. She started using the services provided by AVI and they were great to her. She would always talk about the staff, the doctors, and the services so highly; never one complaint. As hard as it was for her, they made everything so much more comfortable – and at no cost. Now it was my turn to give back to them and thank them for everything they did for my grandmother – and continue to do for others.
On July 1 I stopped by AVI and gave them a check for $1,000. No one knew I was coming, no one expected anything. I introduced myself, said thank you, and handed them a check. It's moments like that which make it all worth while.
I can't thank everyone enough for the support I received. The money will go a long way and every dollar donated counts. I have some of the best friends and family out there and I'm happy that we were able to do this together for my grandmother!

The Marathon
Traveling to Duluth turned out to be a bit challenging. I had a connecting flight in Chicago which wound up being delayed by about 5 hours. Of course, it was a plane full of runners. This gave me a good chance to meet some fellow marathoners and make some friends, some of whom would keep popping up throughout the weekend!
Once we got off the ground and landed in Duluth everything was very easy. I stayed at the Holiday Inn Hotel & Suites, Downtown Duluth. A hotel shuttle picked us up at the airport and it was about a 15 minute ride back to the hotel. They had a ton of free food, snacks, and beverages for the runners and it seemed like the whole town was in marathon mode! A lot of the East African elite runners were staying in the same hotel which was pretty interesting. Getting to interact with some of these guys one on one is something special. The marathon winner, Dominic Ondoro of Kenya, broke Dick Beardsley's 33-year-old record with a time of 2:09.05. I rode the elevator with him.
Race Day
I went out with the 3:25 pace group. The first few miles were a little faster than they needed to be but then we settled in to a nice pace. I felt comfortable the whole time, chatting with the other runners and enjoying the good company. There was a lot of great support on the course and I don't think I've ever eaten so much while running! Bananas, fresh strawberries, candy, oranges.. It was great! It was somewhere around mile 22 that a few runners were still looking strong so I helped them break away from the pack and finish a little faster. They all held on and we finished with a very nice 3:22; good enough to send most of them to Boston!


Splits (via Nike+ GPS):
Miles 1 – 13: 7:33, 7:37, 7:23, 7:44, 7:51, 7:44, 7:55, 8:04, 8:01, 7:39, 7:53, 7:40, 7:33 (1:41:57)
Miles 14 – 26: 7:46, 7:46, 7:43, 7:48, 7:38, 7:39, 7:50, 7:43, 7:36, 7:40, 7:41, 7:30, 7:46 (1:40:51)
Official Splits
Distance
Split
Pace
10K:
47:54
7:43
Half:
1:41:57
7:51
20 Mile:
2:35:14
7:44
25 Mile:
3:13:22
7:38
Finish:
3:22:48
7:45
The Finish
I never felt so fresh after a marathon. I could have kept on going. I was standing around chatting with everyone, eating, drinking, having a grand 'ol time! If it wasn't for the cool temps, I could have stuck around all day in the finish area. I walked back to the hotel with my new friend, Greg from Texas (who I'll be seeing again in Boston this spring!), and enjoyed the rest of the afternoon – the sun finally came out for about an hour. The only sun I saw my whole trip.
Next stop, 39th Marine Corps Marathon in October.