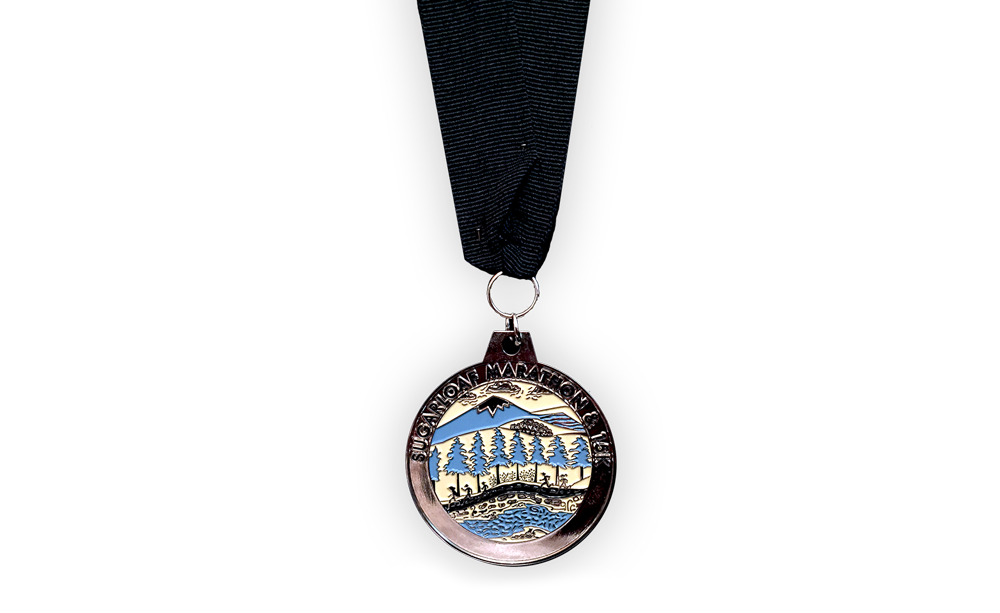 DATE: Sunday, May 18, 2014 7:00am Race Start
LOCATION: Start: Eustis, ME / Finish: Kingfield, ME: Course Map
WEATHER: 51 degrees, Partly Cloudy / 7 mph NNW wind / 80% humidity
---
I had a bad taste left in my mouth from the last marathon in ran in Hartford. I promised that I would train smarter and come back stronger and faster than ever in the spring. I took advantage of some down time during the holidays, ran easy, regrouped, and did some planning. By mid December I had my marathon picked out and my training plan was set. All I had to do was wait until February to start training.. and I was getting hungry.
Training
It was a 15 week, 702 mile journey. I used Nike's Lead From the Front program which is in the style of Albert Salazar. This 15-week plan is for runners with a weekly base of 40+ miles that are looking to crush their next Marathon. The training program included 6 active days per week, with the total weekly mileage peaking at 57. By integrating a number of quality workouts and multiple hard efforts this program focuses on speed so you can dominate 26.2 like a pro.
This was my first time sticking to a training plan day to day, mile by mile. I followed it strictly. I didn't miss one day, one mile, or one minute. I started by gauging my fitness level at the start and setting my goals for race day. I decided, and wrote down, that this would be my pace guide:
| | |
| --- | --- |
| Easy Pace | 7:15-7:30 |
| Tempo Pace | 6:00 |
| 5K Pace | 5:50 |
| Half Marathon Pace | 6:20 |
| Marathon Pace | 6:50 |

Sugarloaf
This was a marathon for marathoners and I liked the simplicity of it. This was my first time running a small town race with a small field – 639 total marathoners. The race had a very relaxed atmosphere and the course was both scenic and challenging. The crowds were small but very, very supportive. The setting for the race is breathtaking as it follows the Maine Scenic Highway – Route 27, winding through the beautiful mountains of Western Maine. Despite the mountainous surroundings, Sugarloaf's course is ranked among the top 15 fastest marathon courses in the nation. The first 5 miles of the marathon are flat, miles 5-10 are rolling hills with a steady two-mile climb at mile 8. The last 16 miles have an elevation loss of 980 feet. The course starts in Eustis, travels through Carrabassett Valley, and ends in Kingfield. The last 6 miles of the race do not feel easy – its pretty flat, but after several extremely fast miles from 12-20 and a couple of ill placed rollers, you're legs feel like lead.
Race Day
I was ready. Whether I wanted to admit it or not, I was ready. I was confident but there was no loss of contact with reality. One Alberto Salazar quote stuck out in my head all week:
You almost always race the way that you train. But at the same time, you're all alone out there with your doubts and your fears. You can't share the pain, blame, or glory with a teammate. There are so many ways to beat yourself.
I knew that I was where I needed to be but I also knew that any little thing could ruin this marathon. I was nervous. My weight was down to 124 lbs, my legs felt strong, and I shattered multiple PRs during training. But what was going to happen out on the course?
The gun went off at 7:00am on the dot and we were off. It was a beautiful morning with the temperature hovering around 50 degrees and the sun only peeking through the clouds. Four men went out fast, those were our leaders. Two packs formed up front almost instantly. I got caught up in the second pack but I knew I wanted to be in the front pack. I came through the first half mile around 3:40. I knew already that this was going to be too slow. As the gap started to widen I knew that I had to make a move. It felt gutsy. I knew that if I went there was no turning back. I quickly moved to the outside of the pack and picked up the pace. It took me about 2 miles to steadily catch that lead pack. Once I fell into place it felt good. I got to keep a steady pace and work off of the other runners. We stayed in a nice pack until about mile 6 when the rolling hills started. The pack pushed ahead but I wanted to keep something in the tank for the incline that I knew was coming from miles 8-11. I stayed steady and let them go ahead.
When we hit the real hills around mile 8 I still felt fresh. My legs were strong and I was able to power up these hills with no problem. I was expecting 7:30+ for miles 8 and 9. I was surprised when I came through mile 8 at 6:58. Mile 9 had the largest incline and also my slowest mile, 7:23, which was still faster than I was expecting. Mile 10 brought us to the top and I had passed about half of that lead pack by that point. I felt like I was just leaving the starting line.
I hit the downhill at 10.5 miles and let gravity take over. I passed the lead female and a handful of others. I hit the 13.1 mile mark at 1:29:10 – a bit faster than I was planning. But it was all downhill from here. I hit mile 15 and I felt amazing. I don't know what it was, but I had some kind of high. It was then that I knew I was going to Boston. All I had to do was maintain. This was my fastest mile at 6:08 and I felt like I was barely jogging. It was just a marathon from here.
It was around mile 19 that I hit the wall. I knew I had plenty of time in the bank but I also knew that I didn't put in this much work to give up. I had to hold on for as long as possible. I thought I was crashing hard. I felt my eyes glazing over, I couldn't keep my head up, I wanted to cry. But my legs knew what to do. As the miles ticked away I was surprised every time my watch beeped and told me that I was still running high 6's. When I hit 24.2 the clock was at 2:44. 2 miles to go, 16 minutes under 3:00. I had it. No more splits. Just run my best. Take home a sub 3:00. And I did.
I used GUs at miles 7, 14, and 21. This was the first time I used this many GUs and the first time I stuck to my plan – even if I didn't think I needed it.

Splits (via Nike+ GPS):
Miles 1 – 13: 7:07, 6:42, 6:39, 6:40, 6:47, 6:56, 6:51, 6:58, 7:23, 6:48, 6:31, 6:29, 6:49 (1:29:10)
Miles 14 – 26: 6:44, 6:37, 6:08, 6:41, 6:35, 6:38, 6:54, 6:58, 6:55, 7:04, 6:56, 7:02, 6:57 (1:29:01)
Official Splits
Distance
Split
Pace
Half:
1:29:10
6:48
Finish:
2:58:11
6:47
The Finish
I crossed the finish line and thought I would cry. My legs were shaking, my feet were burning, and I was going to Boston. I finished 13th place overall. I trained for a 6:50 – 7:00 pace and I thought that 6:50 was too fast. I had just run a 6:47 pace. I thought that 3:05 was attainable but sub 3:00 was a dream. I had just run a 2:58.
Although it was only 9 seconds faster, this was the first marathon that I negative split. This was the first marathon that I executed so beautifully and did everything how I wanted. The plan was executed and the rewards felt amazing.
Next stop, Grandmas Marathon in 4 weeks.