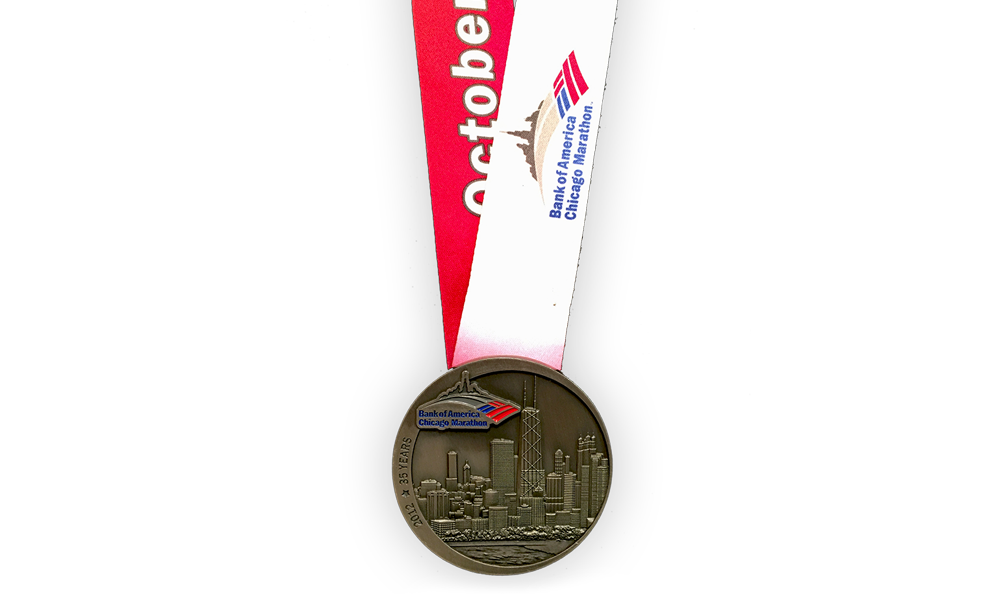 DATE: Sunday, October 7, 2012 7:30am Race Start
LOCATION: Chicago, IL Start/Finish: Grant Park.: Course Map
WEATHER: 43 degrees, Cloudy / 4 mph W wind / 56% humidity
---
My first time in Chicago, what an experience. I got off the plane on Friday morning and it was a brisk 43 degrees and cloudy, all of the leaves around me were a fresh mix of autumn earth tones, and marathon energy was in the air. The banners were in the streets, they were talking about it on the radio during my cab ride from the airport, and everyone was asking me if I was running on Sunday (I suppose all my Nike apparel gave it away). Here's a recap of my experience!

Around Town
I fell in love with this city almost instantly. Friday was my day to explore the city and it was a beautiful fall day. My hotel was centrally located and I was able to easily visit some of the touristy spots without walking too much and tiring myself out. The John Hancock Center, Cloud Gate, Grant Park, Magnificent Mile. I got some help from Runner's World too with this great article: 9 Restful Ways to Explore Chicago Before the Marathon
Niketown Chicago
The Niketown store on Erie and Michigan has been closed for about 6 months and just reopened on Thursday September 27th, just in time for the Chicago Marathon. Coincidence? Of course not. The store is beautiful and the running floor was well stocked. The New York City store still remains superior but the marathon energy (and apparel) was huge. I wound up helping a customer with new sneakers (no commission for me) and chatted up most of the staff about the race; everyone was super friendly! I even picked up a great race t-shirt to commemorate the event!
Race Day
The weather was beautiful and I was feeling good. I got some decent sleep the night before and I was ready to race. The start was so comfortable and quick that I felt like I was running in no time. I went out strong and stayed on pace. My GPS got thrown off on the first mile (I clocked .80 at mile 1) but it eventually caught up. I took this as a sign to not depend on my GPS and just run with the pace group, listen to my body, and watch my splits. I felt good. I kept my 7:26 pace and my splits were pretty much right on. At the half I ran a PR of 1:37:21. I still felt strong. At mile 18 I started to feel tired and could only think about the remaining 8 miles. At mile 19 I hit the wall. My split at mile 19 was right on, to the second (2:21:19). After that my pace slowed by apx. 30 seconds/mile and my legs felt like they turned to lead! I kept focused and kept the finish line in my sights; I kept running hard. At mile 25 I was caught by the 3:20 pace group and it became my motivation to stay ahead of them. I was successful with a 3:19:22 finish! Even with a hard wall I only lost 4:22 minutes.
Now I'll take a few weeks to indulge in the 3 R's: Rest, Recover, Relax. Then it's on to pick out a spring marathon and step up my training for the winter. Spring 2013, I want a BQ with a 3:05:00 marathon.
Results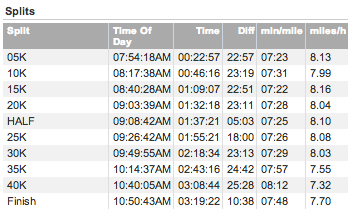 Fundraising
My fundraising for the American Red Cross was a huge success with over $1,500 donated. I even had some race day inspiration as one friend sent me a message the day before the race.
[blockquote]Break 3:40 and I will donate $5 for every minute you break it by. Will add another $25 if you break 3:15.[/blockquote]
I ran a 3:19 and raised an additional $110.
Working with the American Red Cross was a great honor and such a special experience. They made everything about the race and fundraising so much more exciting. All of the details about my fundraising efforts are at 2012 CHICAGO MARATHON: RUN RED TEAM