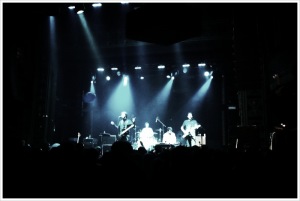 The Dismemberment Plan is a Washington D.C. based indie rock band formed on January 1, 1993. The name comes from a stray phrase uttered by insurance salesman Ned Ryerson in the popular comedy Groundhog Day. The band members included Eric Axelson (bass), Jason Caddell (guitar), Joe Easley (drums) and Travis Morrison (vocals and guitar). On September 1, 2003 The Dismemberment Plan played their final show.
On September 13, 2010, The Washington Post's Click Track reported that the band would reunite for a tour, in support of Barsuk Records' reissue of 1999s Emergency & I. "We're not planning a new record," bassist Eric Axelson told Click Track. "But we're doing these shows and taking it day to day after that."
Although I wish I could have focused enough to record full songs, I was having way too good of a time to focus on it! However, I did get some pretty decent clips that do a pretty good job capturing how good their set was (and surprisingly, the audio is AMAZING, thanks iPhone4)! Clips are of the following songs, in order:
A Life of Possibilities // You Are Invited // Back and Forth // The Ice of Boston

The Dismemberment Plan @ Webster Hall from Jonathan Farrell on Vimeo.
Other images from the night: