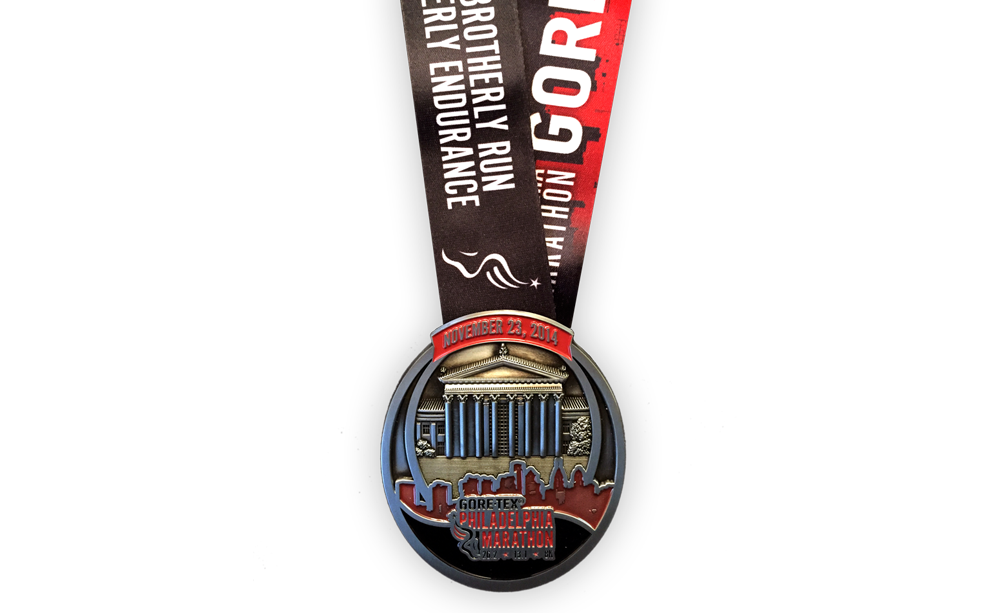 DATE: Sunday, November 23, 2014 7:00am Race Start
LOCATION: Philadelphia, PA: Course Map
WEATHER: 42 degrees, Cloudy / 6 mph WSW wind / 49% humidity
---
There's something about Pennsylvania. I don't know what it is but something about it just couldn't get me excited about this run. Last year I was in a similar position for Philly and I decided not to go. This year I stuck with it. Maybe part of me wanted to do Pocono Marathon as my Pennsylvania race or maybe I just wasn't mentally recovered from my injury. Maybe it was just so late in the season that I started getting lazy and burnt out. No matter what the reason, I was running Philly.
The last two marathons I ran were stupid. That's it. There were no good reasons for me to run them except for the fact that I am stubborn. I started to feel like I was going to hurt myself for no good reason. It was all catching up to me. Sometimes you have to be stupid to get back on track being smart. This race was my revelation.
Training
Training? What training? I had 4 weeks between Marine Corps and Philly to ease back into a pace without aggravating my foot. My weekly mileage was 18, 28, 25, and 11 for the week before the race. I had one quality 15 miler that gave me some confidence. Otherwise, the main goal was to keep it easy and not hurt myself.
Race Day
My goal was 3:35:00 but that was a pretty arbitrary number. A friend, Bruce Yang, was set to pace the 3:35:00 group so I planned to just go out with him. Last minute he got bumped to the 3:45:00 group. Instead of dropping back I decided to stick with the original plan. I went out with my friend and running partner, Gary Holland, who was also fighting a recent injury. Our plan was to just run a nice and easy 3:35:00.
I ran decently, this really wasn't a terrible race. We went out at a nice easy pace, just slightly ahead of goal pace, keeping even 8:00 splits for the first 10K. We felt good and picked it up a little from there. Those 7:30s kept ticking by and I hardly felt like I was running. We were chatting, laughing, having a great time out there! I was feeling great until mile 21. I ate GUs just before miles 7, 14, and 21. After my mile 21 GU I slowed down to grab some water and when I tried to pick up the pace again my legs said "nope!" I watched Gary slowly drift away and tackled the last 5 miles alone, just running whatever felt easy.
The first half of the race, especially the first 10K, was extremely busy. Way too many people (marathoners + half marathoners) on narrow streets. Lots of dancing around instead of looking around; it would have been nice to see some of the sights as we ran through Old City. Approaching the half was a tease. We ran right past the finish line and started a long and boring 13.1 mile out and back along the river for the second half. As usual with this type of course, the out felt great until about mile 18 – then you start thinking "When the hell are we going to turn around?" When we got to the turnaround at mile 20, there was a brief surge of excitement as you thought you were on your way home! But reality sunk in pretty quickly and reminded you just how far you have to go. It's hard not to break at that point.

Splits (via Nike+ GPS):
Miles 1 – 13: 8:10, 8:04, 8:07, 7:57, 8:02, 8:06, 7:26, 7:52, 7:31, 7:39, 7:38, 7:34, 7:34 (1:41:40)
Miles 14 – 26: 7:34, 7:41, 7:33, 7:34, 7:55, 7:43, 7:41, 7:54, 8:12, 8:28, 8:43, 9:40, 8:57 (1:45:35)
Official Splits
Distance
Split
Pace
10K:
50:44
8:10
Half:
1:43:58
7:55
30K:
2:26:28
7:51
Finish:
3:31:07
8:03
The Finish
So, I finished. Nothing special. I was on pace for 3:25:00, fell off a little, and still beat my goal by 4 minutes. I felt more disappointed that I actually ran. I felt like I should have been smarter and rested, taken care of my foot to assure it healed properly. I felt like I should have been easing back into my routine.
Time to rest up and start planning my Boston training.
The Half Marathon
The real reason for this trip and for running in Philly was for my fiancée, Kristen, to tackle her first half marathon! She trained smart and ran well with a finishing time of 1:56:45, easily below her goal of breaking 2:00:00! You can read her full writeup here: Running Philly: My First Half Marathon